Welcome to Portugal! As a tourist, having access to mobile data is crucial to stay connected and make the most of your trip. Buying a local SIM card at Portugal airports upon arrival is often the easiest and most convenient option. This definitive guide will provide you with all the key information you need to know about purchasing SIM cards at Portugal's major airports.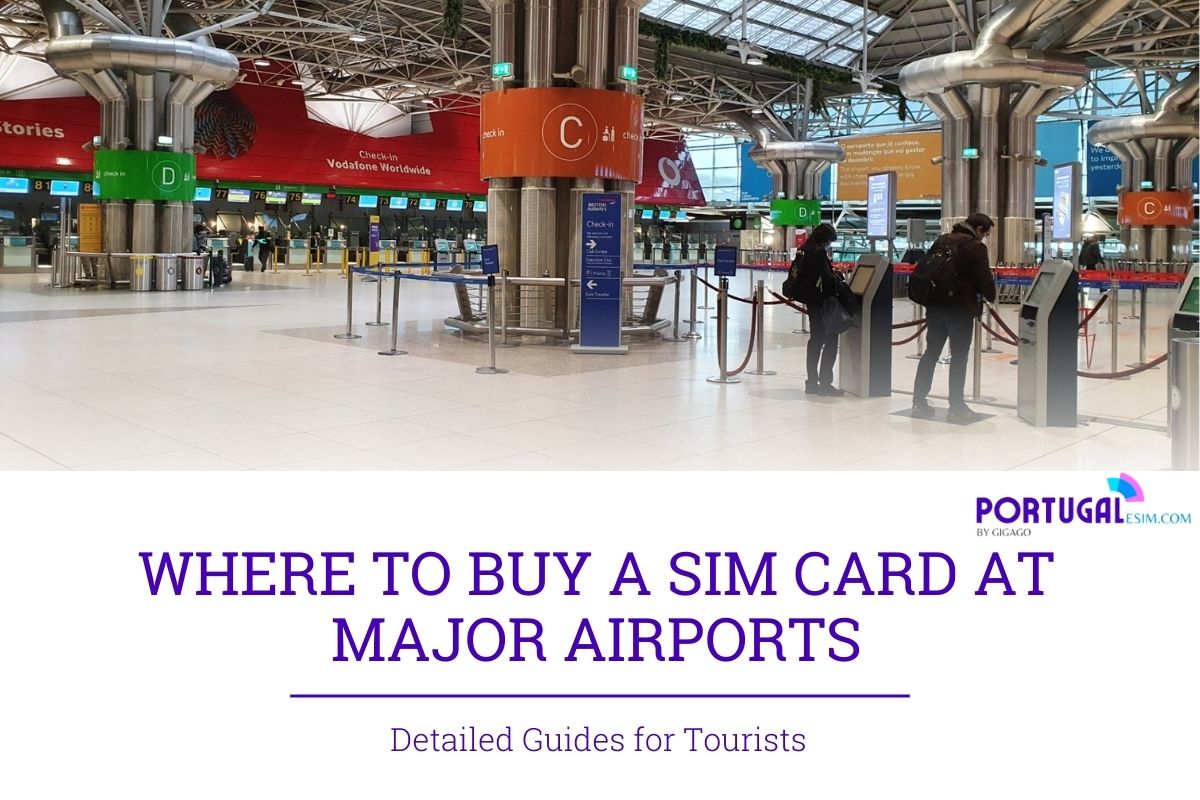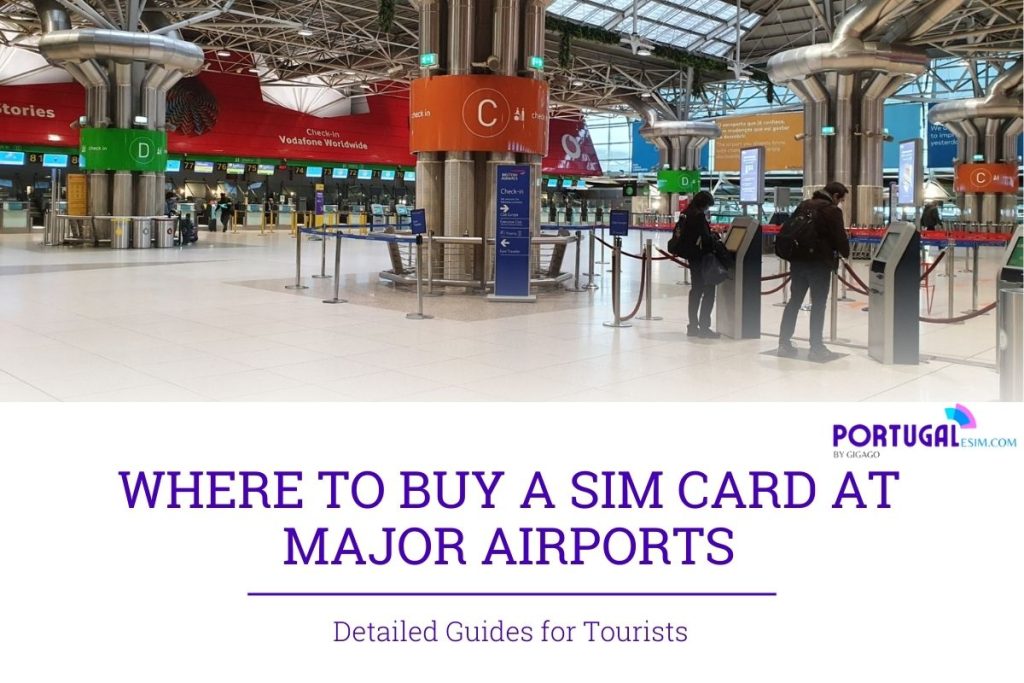 Table of Contents
I. Which Airport in Portugal Offers SIM Cards for Tourists
The three main international airports in Portugal are Lisbon Airport, Porto Airport, and Faro Airport. All three airports have kiosks and stores where you can easily purchase SIM cards.
Lisbon Airport – Lisbon Portela Airport is Portugal's busiest airport. There are several Vodafone and MEO kiosks located in the Arrivals area of both Terminal 1 and Terminal 2 where you can purchase SIM cards. The airport also has Phone House stores that sell SIM cards from various providers.
Porto Airport – Porto Francisco Sá Carneiro Airport has Vodafone and MEO desks in the baggage claim area of the Arrivals hall. There is also a Phone House store in the Departures hall of Terminal 2 that offers a wide selection of SIM cards.
Faro Airport – Faro Airport has Vodafone and MEO kiosks located right after you exit the baggage claim area. You'll find Phone House and MEO stores in the Departures hall that also sell SIM cards.
In short, all three of Portugal's main airports have multiple convenient options to purchase a local SIM card upon arrival. The major Portugal carriers like Vodafone, MEO, and NOS have kiosks or stores at these airports. You'll also find other retailers like Phone House that offer SIM card packages from various providers in one place.
II. Where to buy a SIM Card at Portugal Airports
Here are the specific outlets and locations where you can buy SIM cards at the three main airports in Portugal:
Lisbon Airport:
Vodafone kiosks – In Arrivals area of both Terminal 1 and Terminal 2
MEO kiosks – In Arrivals area of both Terminal 1 and Terminal 2
Phone House stores – In Departures area of Terminal 1 and Terminal 2
Porto Airport:
Vodafone desk – In Arrivals hall after baggage claim
MEO desk – In Arrivals hall after baggage claim
Phone House – In Departures hall of Terminal 2
Faro Airport:
Vodafone kiosk – After exiting baggage claim
MEO kiosk – After exiting baggage claim
Phone House – In Departures hall
MEO store – In Departures hall
The kiosks and stores at these locations are easily accessible and open during flight arrival times. Look for the bright logos and signage of the major providers. It's hard to miss the SIM card purchasing points at Portugal's airports.
III. What to Prepare to Buy a SIM card at Portugal airports
Here are a few tips on what you need to have ready in order to smoothly purchase and activate a SIM card once you arrive at a Portugal airport:
Passport – Make sure to have your passport handy. You will need to show this as ID when buying a SIM card at Portugal Airports.
Unlocked phone – Your phone will need to be unlocked to use a Portugal SIM. Contact your home provider in advance to request unlocking.
Credit or debit card – Have a credit or debit card available for payment. Cash is accepted at some locations but card is preferable.
SIM card size – Standard or micro SIM? Make sure you know which size SIM card your phone requires. The providers offer both options.
Activation instructions – Ask for written instructions on how to activate the SIM card and set up your data plan.
EPP code – Some kiosks will ask for an EPP (electronic proof of purchase) code. This will be provided on your receipt after purchasing.
As long as you have the above, the process of buying and activating a local SIM card at Portugal airport should be quick and hassle-free.
IV. Portugal eSIM – An Alternative to SIM Card at Portugal Airport
Instead of using physical SIM cards, eSIM technology is becoming a popular choice for tourists visiting Portugal, offering a convenient solution without the need to swap SIM cards. eSIMs are embedded SIMs that are built into devices like smartphones and tablets. Unlike physical SIM cards, eSIMs can be remotely installed after purchase.
The use of eSIMs, such as those offered by portugalesim.com by GIGAGO, provides several benefits.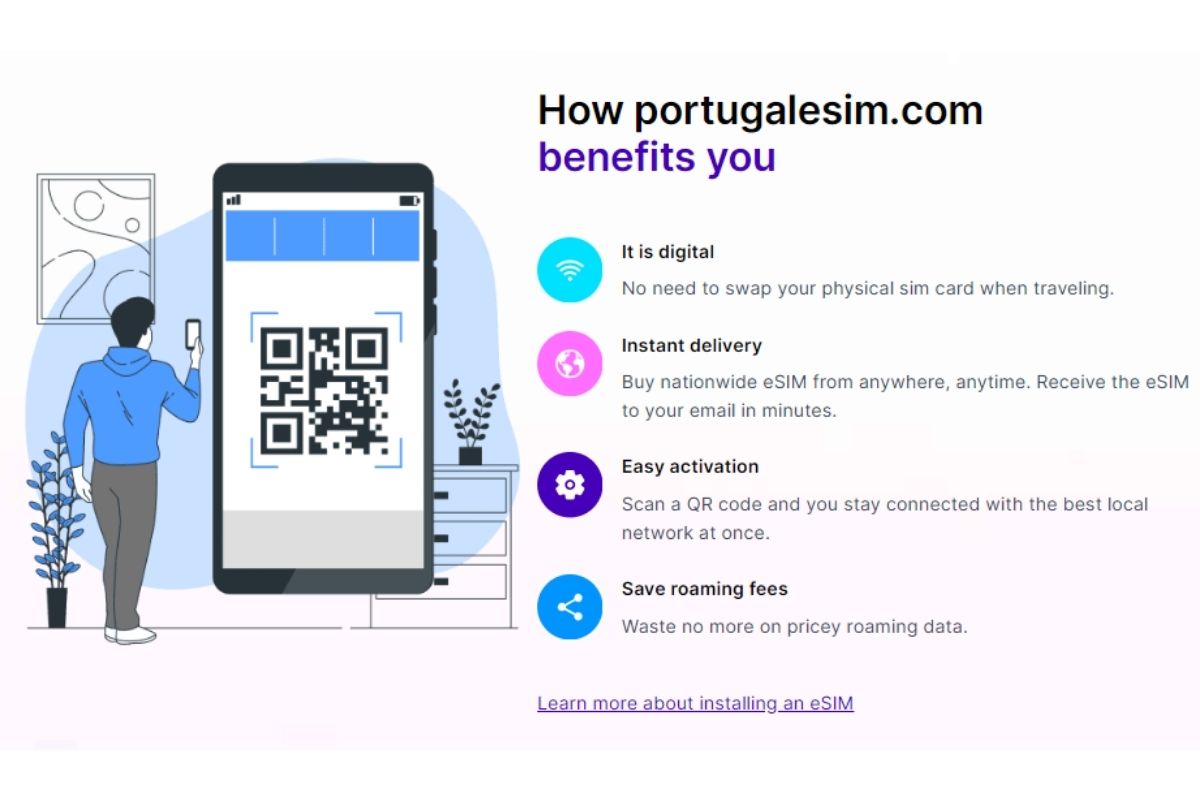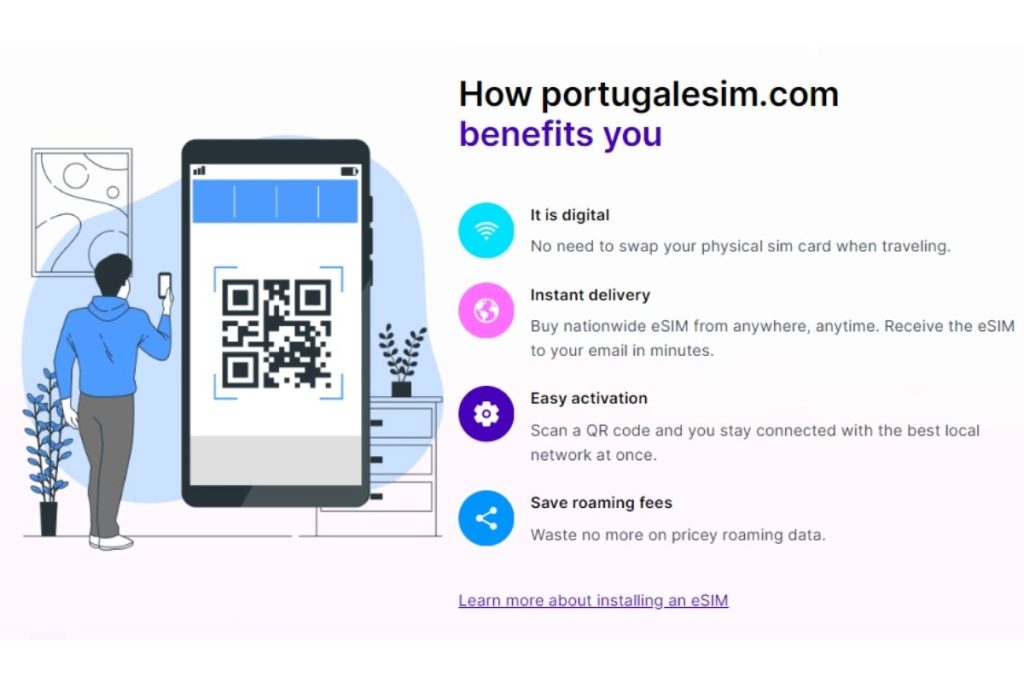 Firstly, it offers convenience as travelers can purchase data plans online before their trip and activate them instantly upon arriving in Portugal, eliminating the need to search for a SIM card at Portugal airports.
Additionally, eSIMs sourced from major Portuguese carriers like MEO and Vodafone ensure widespread coverage and strong signals throughout the country.
eSIMs also offer flexibility, allowing users to easily adjust their plans or share data between devices through the app. Moreover, eSIMs are environmentally friendly as they eliminate the need for plastic SIM cards.
However, there are a few things to consider when using eSIMs in Portugal. It is important to check the compatibility of your device, as it needs to be a recent model from Apple, Samsung, or Google to support eSIM. Additionally, eSIMs are tied to a specific device and transferring them to another device requires reactivation or carrier support.
While major Portuguese carriers typically require existing subscription for eSIM registration, international eSIM providers like Airalo, Nomad, Holafly, and portugalesim.com offer an alternative option for travelers without this requirement. These providers allow users to purchase eSIM data plans directly through their mobile apps or websites.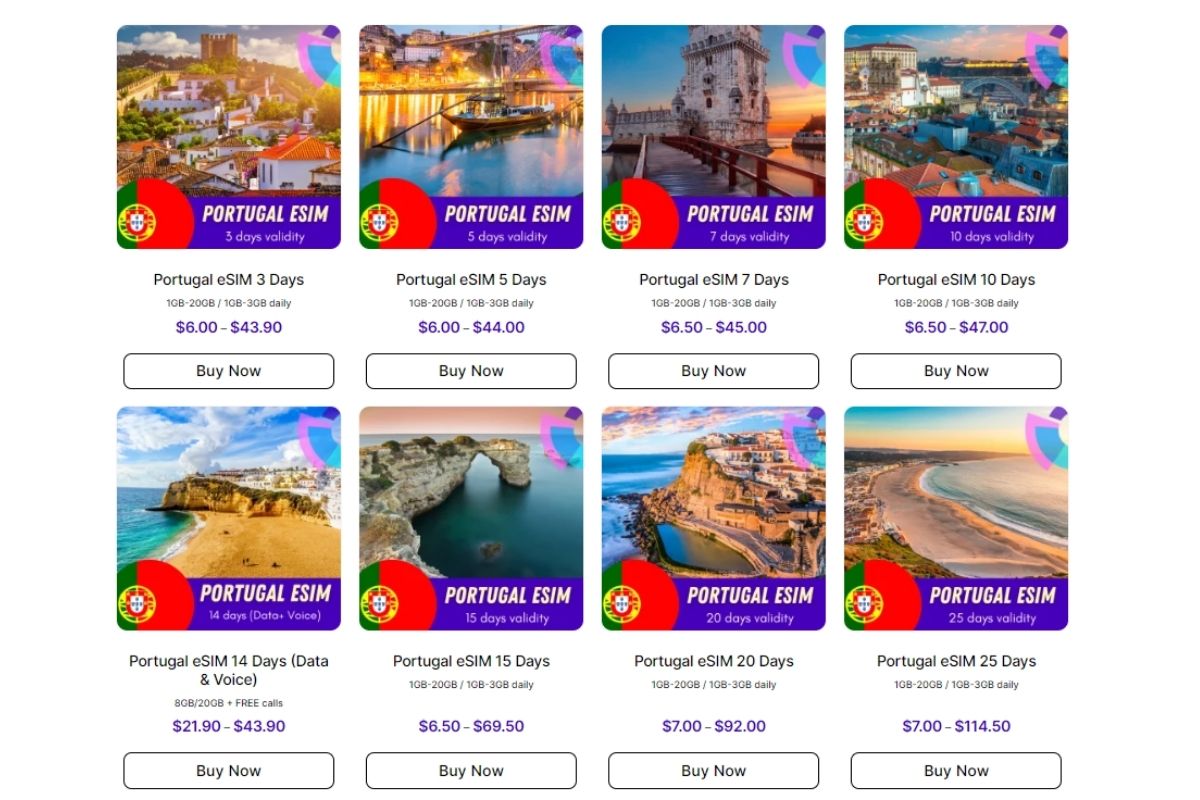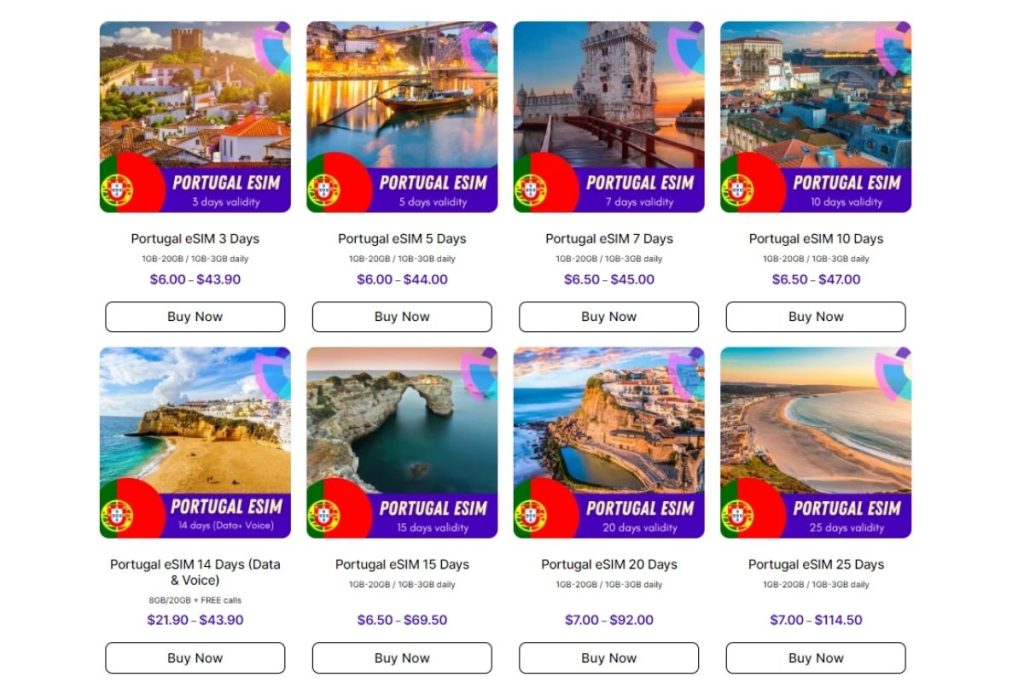 When it comes to data plans, eSIM providers offer packages specifically tailored to the needs of visitors, with a range of data allowances and package durations to choose from, ensuring that travelers can select the best option for staying connected while exploring Portugal.
V. FAQs
What documents do I need to provide to purchase SIM card at Portugal Airports?
You will need to show your passport as an official ID when buying a SIM card in Portugal airports.
Can I pay with cash or card?
Most SIM card kiosks and stores accept major credit/debit cards. Some may accept cash payment as well.
How much data should I get?
For a short trip, a 5GB data-only SIM card should be sufficient. For longer stays, you may want 10-15GB or unlimited data.
Which provider has best coverage?
MEO and Vodafone generally have the widest coverage around Portugal. Check maps to confirm coverage in your specific travel locations.
Can I use the SIM card in other European countries?
Portugal SIM cards work throughout the EU free of roaming charges. But you may want to limit data use outside Portugal.
VI. Final Words
Purchasing a SIM card at Portugal airports is a quick and easy way to get connected upon your arrival in Portugal. Simply locate the nearest kiosk or store for your provider of choice, have your passport ready, purchase the amount of data you need, and pop in the card to activate service. Alternatively, order an eSIM in advance for maximum convenience. With your Portugal SIM or eSIM ready to go, you'll be set to make calls, use maps, and share travel experiences seamlessly throughout your trip!