Portugal is a popular tourist destination in Europe, known for its beautiful beaches, historic cities, cuisine and wine. Having connectivity on your trip is essential these days for maps, translations, ride-hailing, restaurant reviews and keeping in touch back home.
Vodafone is one of the top mobile operators in Portugal with excellent nationwide 4G/5G coverage. A Vodafone SIM card or eSIM for Portugal offers fast speeds, affordable data packages and easy activation for short term use making it a great choice for tourists.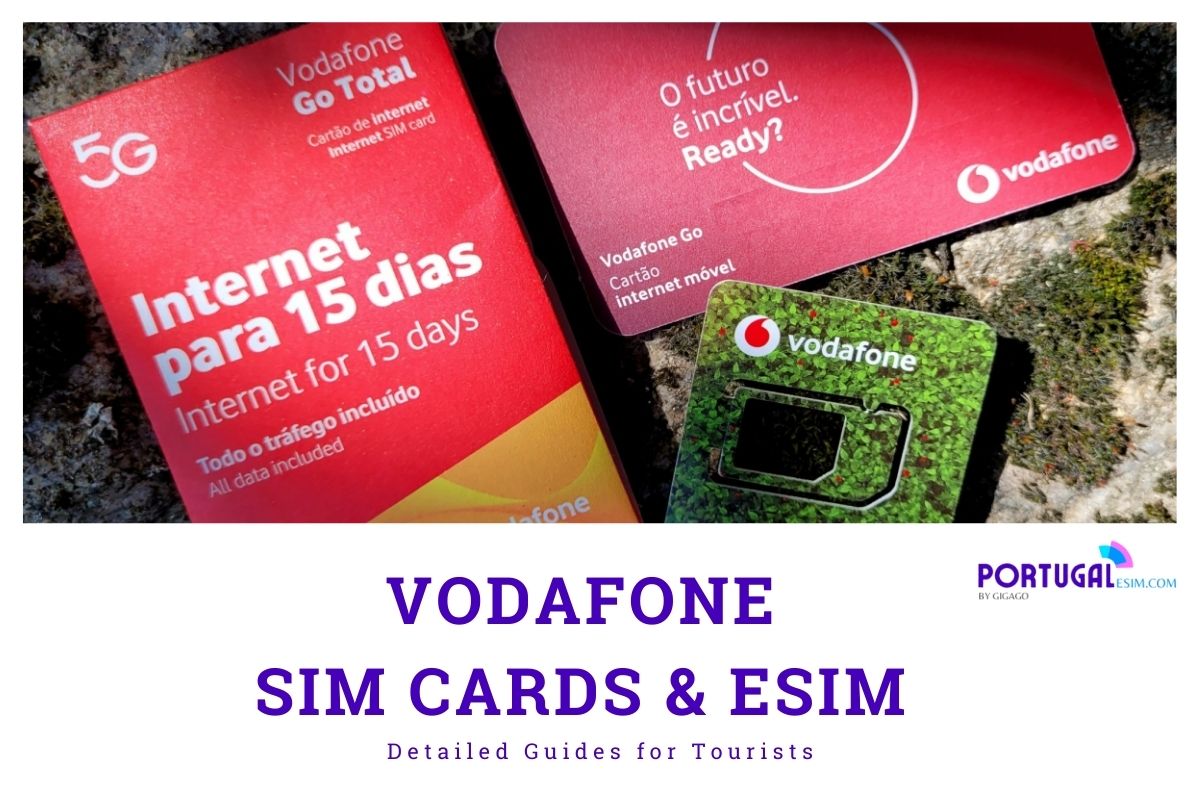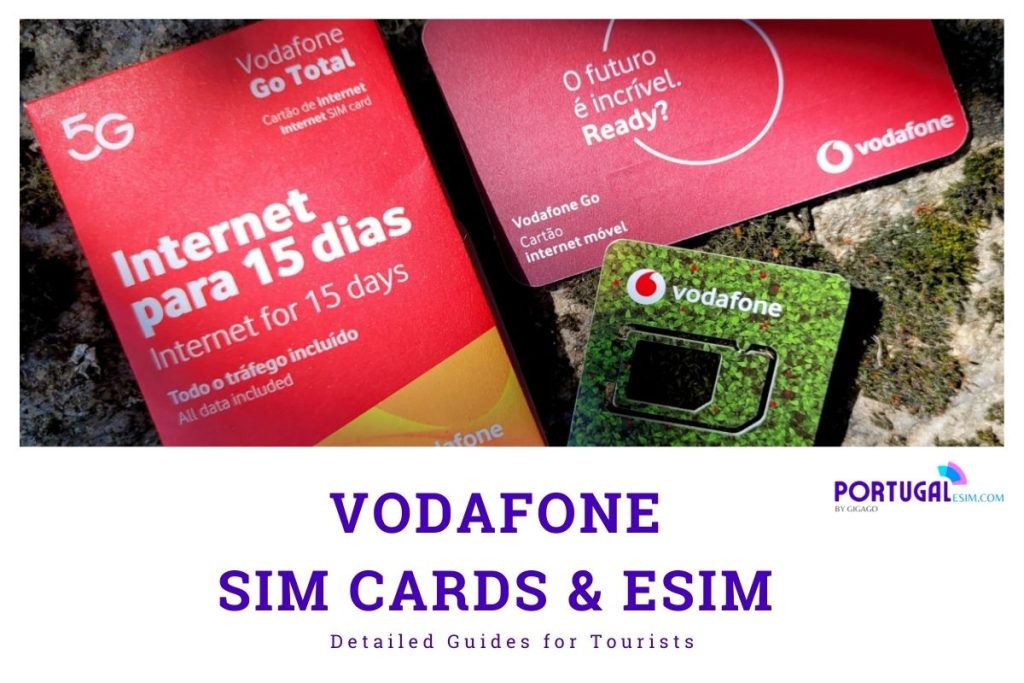 Table of Contents
I. Quick Facts about Vodafone Portugal
Vodafone is the second largest mobile network in Portugal with over 4 million subscribers.
It has over 98% population coverage on 2G and over 96% on 4G LTE. 5G rollout is ongoing in major cities and tourist areas.
Top speeds of up to 1 Gbps on 5G, 300 Mbps on 4G+ and 42 Mbps on 3G.
Vodafone has prepaid SIM cards and eSIM plans available for tourists. Both provide high-speed data on 4G/5G.
Prepaid SIMs can be purchased online for delivery in Portugal or at Vodafone stores, kiosks and other retailers.
eSIM activation requires downloading Vodafone Portugal app and following prompts. An eSIM QR code will be provided.
Affordable short-term data packs available – 5GB for 7 days costs €10. Daily packages from €3.
Vodafone prepaid SIMs and eSIMs have free incoming calls. Outgoing local calls are €0.10 per minute.
EU roaming benefits available on Vodafone Portugal prepaid plans at no extra cost.
II. Why Vodafone When You're Exploring Portugal – Coverage and Speed
1. Vodafone Coverage in Portugal
Vodafone has over 96% population coverage with its 4G LTE network in Portugal allowing high-speed data throughout the country. This covers all major cities and towns as well as popular tourist destinations along the coast and inland.
5G is being rapidly rolled out by Vodafone in Portugal and is already available in Lisbon, Porto, Algarve and other areas. Over 40% of the population is covered by 5G as of 2022.
With great 4G and growing 5G, Vodafone is an excellent choice for tourists who want reliable high-speed data during their travels in cities as well as rural Portugal. The coverage is on par with other top providers like NOS and MEO in Portugal.
2. Vodafone Portugal Speed
Vodafone 4G LTE network provides typical download speeds of 35-45 Mbps in most parts of Portugal with lower latency than 3G resulting in good performance for social media, maps, video streaming and calling apps.
5G takes it to the next level with peak theoretical speeds of up to 1 Gbps where available. In real-world tests, speeds over 300 Mbps have been measured on 5G in some areas giving an extremely fast connection.
The good 4G speeds coupled with expanding 5G coverage makes Vodafone stand out for Portugal travelers who need solid performance whether they are in Lisbon or a small coastal town. Speeds are comparable and often better than other providers.
III. Vodafone Connectivity Options for Travelers to Portugal
Vodafone offers both physical SIM cards and eSIM (digital SIMs) to tourists visiting Portugal. Here are some pointers to help choose:
Vodafone Prepaid SIM Card – Best for use in unlocked phones. Can be purchased in advance online/in-store and activated easily on arrival. More convenient for longer trips.
Vodafone Portugal eSIM – For latest phones/tablets supporting eSIM activation. Quick digital activation via app. No physical SIM required. Good for short trips.
Both provide 4G/5G data access and EU roaming. eSIMs involve instant digital activation while SIM cards require stopping by store/kiosk to activate.
iPhones and many Android phones now support eSIM capability in addition to physical SIM allowing dual SIM functionality.
For advanced users, Vodafone offers contract plans (12/24 months) with larger data buckets and local calling bundles but prepaid is simpler for tourists.
In summary, Vodafone prepaid SIM card is suggested for longer vacations and eSIM for short trips where digital activation is more convenient. With both options available, tourists of all kind are covered by Vodafone in Portugal.
IV. Best Vodafone Portugal SIM Cards for Tourists & Cost
Here are some of the best Vodafone Portugal prepaid SIM only data plans recommended for tourists:
5GB for 7 days – €10. Best value for a week's use with 5GB 4G/5G data
15GB for 30 days – €15. Good amount of data for longer trips of 2-3 weeks.
Unlimited Data for 24 hours – €3 per day. Convenient daily package.
Unlimited Data for 72 hours – €5 for 3 days. Alternative to daily plan.
1GB for 15 days – €5. Low data usage plan over two weeks.
Vodafone also offers some prepaid plans with local call bundles:
5GB + 50 Mins Local Calls for 7 days – €12
15GB + 150 Mins Local Calls for 30 days – €20
These packages provide good value with data and some local talk time included. Call rates are otherwise €0.10/minute.
For EU roaming, you get the full data allowance to use across EU/UK at no extra cost. These Vodafone SIM only prepaid plans give excellent connectivity in Portugal.
V. Does Vodafone Support eSIM in Portugal?
Yes, Vodafone launched eSIM support in Portugal in 2022 initially for iPhone users. It has now expanded eSIM availability for both iPhone and Android smartphones that are eSIM capable. An eSIM allows users to activate mobile data directly on eSIM-compatible phones without a physical SIM card.
Vodafone Portugal's eSIM profiles provide the same service, number, and billing as physical SIM cards. Users can store multiple international eSIM profiles from different carriers on devices like the iPhone and easily switch between profiles when traveling abroad. However, if an eSIM device needs repair, the profile must be deleted as eSIMs cannot be reinstalled once removed.
Existing Vodafone Portugal customers can switch their physical SIM to an eSIM profile for a one-time fee of 5 euros by visiting a retail store or calling customer support.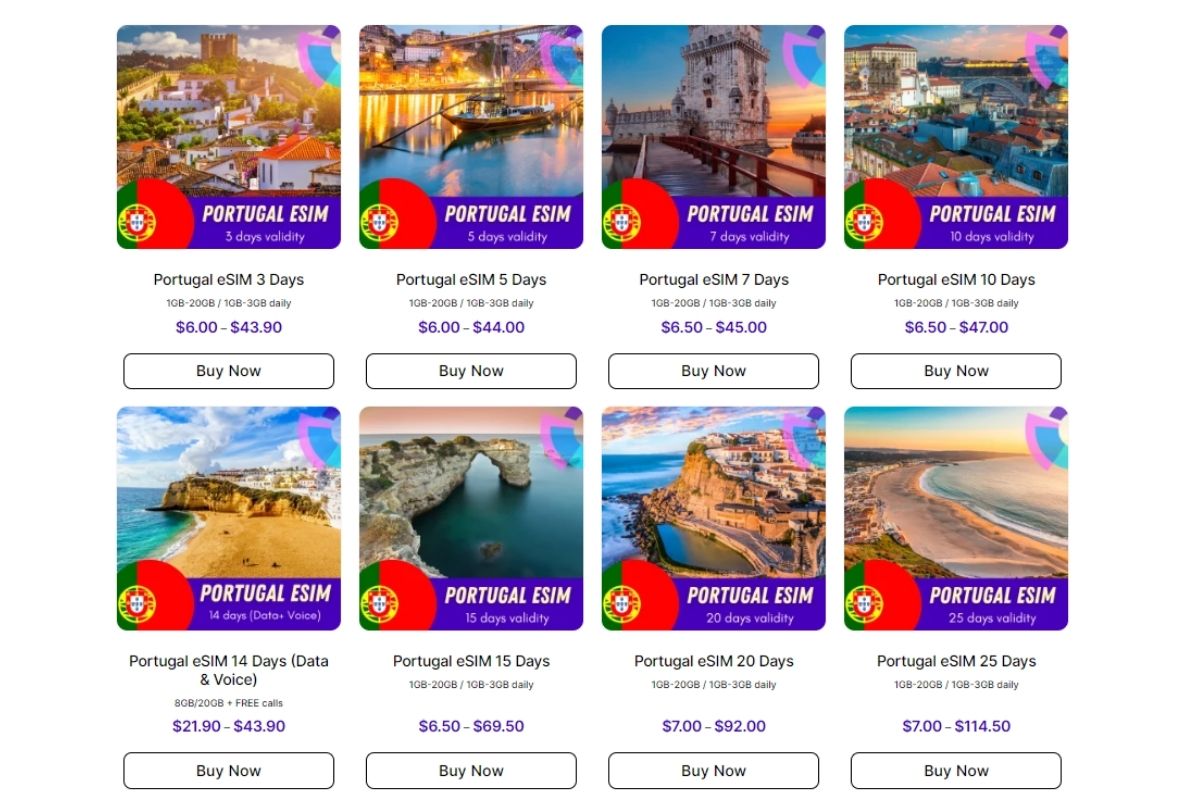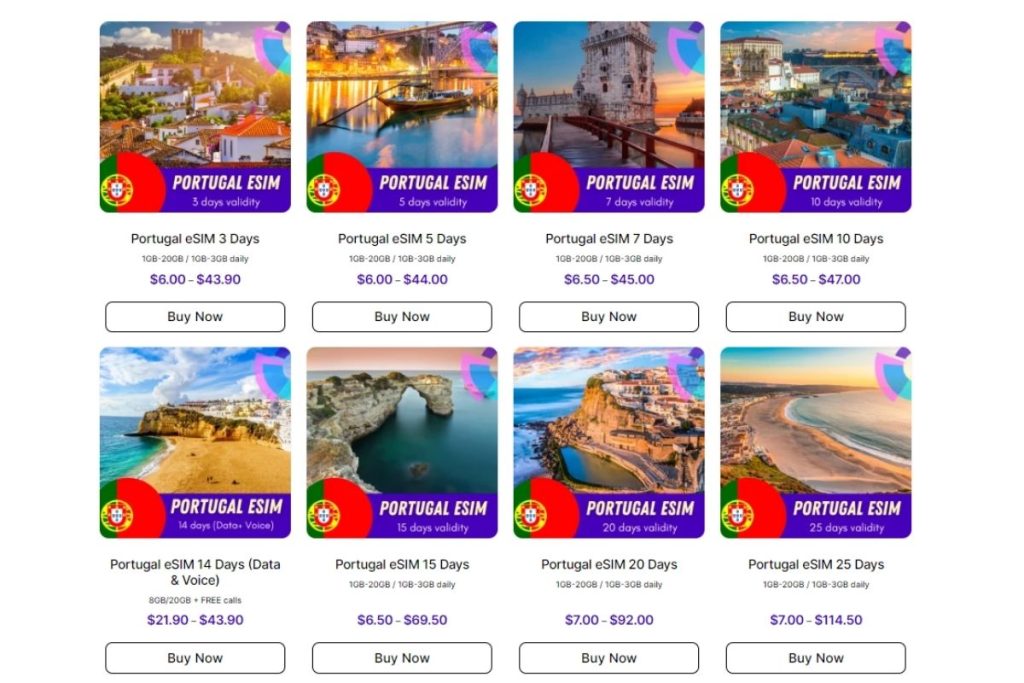 Alternatively, portugalesim.com provides convenient eSIM options using Vodafone Portugal's network. Plans include 3 to 14-day options starting from €6, providing 1 to 20GB of daily data. An advantage is these plans can be purchased and activated online directly on a compatible device without a store visit.
VI. Where can You Buy a Vodafone Portugal SIM card and eSIM?
1. Where to Buy Vodafone Portugal SIM Card?
As a popular operator, Vodafone SIM cards are widely available in Portugal at:
Vodafone Stores – Available at all official Vodafone stores such as Lisbon Armazéns do Chiado mall. Store staff can assist with activation.
Vodafone Kiosks – Located in major transport hubs like airports and rail stations.
Mobile Operator Stores – Often sold along with other provider SIMs.
Supermarkets – Worten, FNAC and other major supermarkets.
Tobacconists – Commonly found at tabacarias (tobacconists) which are widespread.
Online – Can order Vodafone SIM for delivery to hotel from websites like Portugal SIM card or Amazon.
So getting a Vodafone Portugal SIM card at a retail outlet or delivered is quite convenient for tourists. Activation requires stopping by any Vodafone store or kiosk with passport.
2. Where to Buy Vodafone eSIM in Portugal?
Find an eSIM provider that works in Portugal offering access to Vodafone's network. Order a Vodafone eSIM online from portugalesim.com before your trip for instant activation upon arrival.
Sign up for a Vodafone data plan from portugalesim.com by GIGAGO that meets your needs – some are pay-as-you-go, others monthly.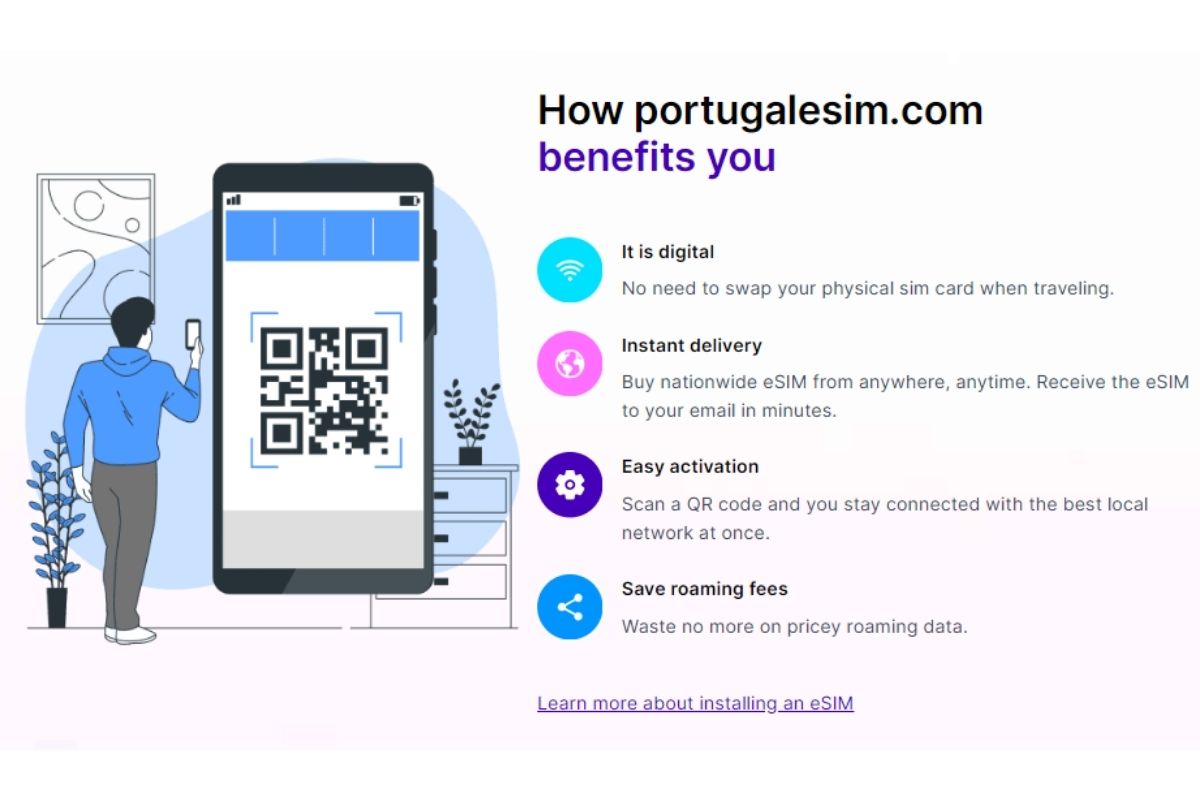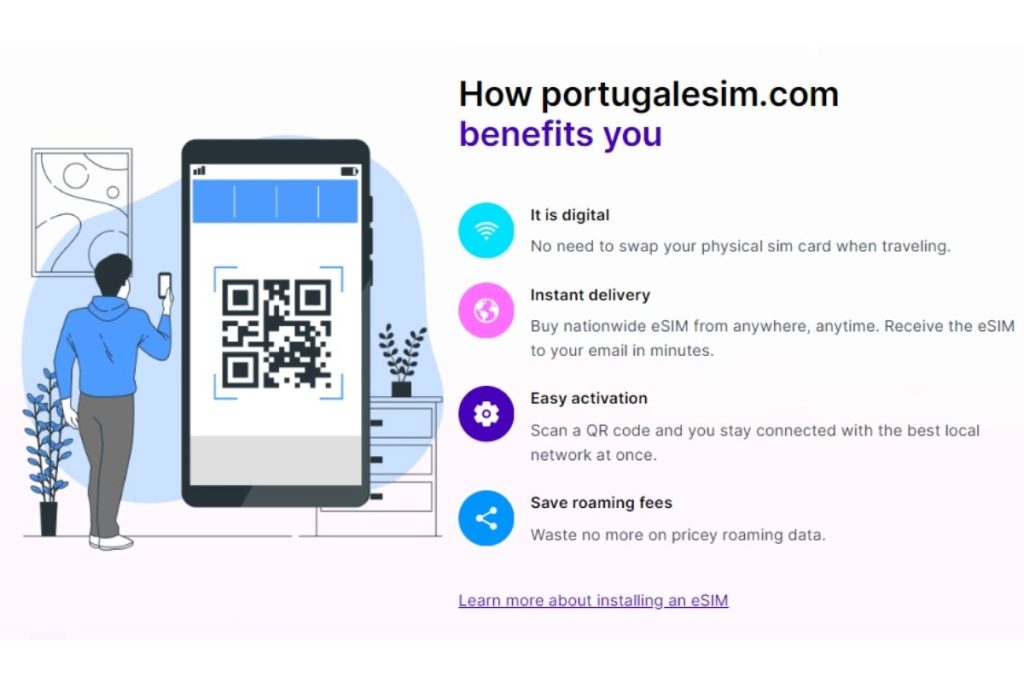 Portugalesim.com will generate your Vodafone eSIM profile with plan details, sending a QR code or profile via email.
Install the Vodafone eSIM on your device. Once active, it will automatically connect you to Vodafone Portugal's network for data use.
Portgalesim.com offers digital eSIM convenience avoiding airport SIM swaps. Instant eSIM delivery gets you online anywhere, anytime. Just scan the QR code to link up with Vodafone Portugal.
Learn more about installing a Vodafone eSIM from portugalesim.com. Setup usually takes 2-3 minutes after getting the profile. Their support team can assist with activations via live chat in multiple languages.
Tip: Confirm your device supports eSIMs before buying. Take a screenshot of your eSIM plan for backup assistance or changes later on.
V. How to Activate Vodafone Portugal SIM Card/eSIM?
1. How to Use Vodafone Portugal SIM Card?
Activating a Vodafone Portugal SIM card is quite straightforward:
Purchase Vodafone SIM either online or at a local store/kiosk
Power off existing SIM card and insert Vodafone SIM
Power phone on and a text message will arrive with connection settings
May need to manually configure APN as "vodafone.pt" if data doesn't work
Connect to Vodafone Portugal network with signal bars displayed
Open browser or app to confirm data is working
That's it! You can then purchase a prepaid data pack via USSD menu or Vodafone app and start using the SIM. Be sure to carry passport when purchasing SIM for registration.
2. How to Activate Vodafone eSIM?
To activate Vodafone Portugal eSIM:
Download Vodafone PT app on eSIM capable iPhone or Android device
Create a Vodafone account and register device IMEI number
Browse prepaid data plans in app and select desired package
Make payment by accepted payment method
App will generate a QR activation code for plan
Go to phone eSIM section, scan QR code which downloads eSIM profile
Follow prompts to activate Vodafone eSIM. Takes 1-2 minutes.
Vodafone Portugal eSIM now active!
That's all there is to it. eSIM activation is quick and convenient without visiting any store. Be sure phone is unlocked and has software update for eSIM functionality.
VI. Portugal Vodafone Call & SMS Rates
Here are the outbound voice call and SMS rates from Vodafone Portugal prepaid SIM:
Local Calls – €0.10 per minute
National Calls – €0.10 per minute
Calls to EU – €0.23 per minute
Texts to Portugal mobiles – €0.09 per SMS
Texts to International mobiles – €0.29 per SMS
All incoming calls and texts are free on Vodafone prepaid. No charges for receiving calls or SMS from any country.
Voice and SMS usage is generally low as most communications are via free messaging apps like WhatsApp. But the rates are reasonable from Vodafone Portugal SIM cards.
For EU roaming, outgoing calls and texts from Portugal to EU numbers are at domestic rate with no roaming charges. This makes Vodafone prepaid plans very appealing for travelers.
VII. Useful USSD Codes for Vodafone Portugal SIM Card/eSIM
Vodafone prepaid SIM card and eSIM users can make use of the following USSD codes to check balance, activate packs and more:
* 100# – Check Prepaid Balance
*110# – Activate Prepaid SIM
*123# – Vodafone Menu with Packs/Plans
*222# – Check Data Usage
*223# – Service Activation and Deactivation
Some common prepaid plan activation codes:
*123*15*1# – 15GB for 30 days for €15
*123*5*7# – 5GB for 7 days for €10
*123*3*1# – Unlimited 1 day for €3
So USSD codes provide a quick way to get info and activate plans without installing an app. Dial them directly on the phone dial pad.
VIII. How to Top-up Vodafone Portugal SIM Card/eSIM
There are several convenient ways to top-up and recharge a Vodafone Portugal prepaid SIM or eSIM:
Vodafone App – Instant top-ups via My Vodafone app using payment cards/methods added
Online – Recharge vouchers can be purchased from vodafone.pt and emailed
Stores – Purchase top up vouchers from Vodafone stores and partners. Enter recharge PIN into app or dial *111*Voucher#
ATMs – Select Banks like MB allow top-ups from ATMs using card/cash
Supermarkets – Buy top up cards at checkout counters to add credit
So digital methods like app or buying online codes offer the fastest way to top up. Automated channels like ATMs or retail stores also convenient options depending on preference.
IX. FAQs about Vodafone Portugal SIM Card
Here are some frequently asked questions about getting a Vodafone SIM card or eSIM in Portugal as a tourist:
Do I need to show passport/ID to get a Vodafone Portugal SIM Card?
Yes, you need to show passport at time of purchasing a Vodafone prepaid SIM for registration by law. ID required for eSIM too.
Can I use Vodafone Portugal SIM card in rest of Europe?
Yes, Vodafone Portugal prepaid SIMs and eSIMs support EU roaming. Full data allowance and minutes/texts can be used across EU/UK at no extra cost.
How can I check data balance on my Vodafone Portugal SIM Card?
You can check prepaid data balance by dialing *222# or through My Vodafone app.\n\n### How to contact Vodafone support from Portugal SIM card?
Dial 1620 from Vodafone Portugal SIM to reach customer support. Other methods include store visits, app chat and social media.
How to refill Vodafone SIM in Portugal?
Top up Vodafone SIM via Vodafone app, online recharge vouchers, stores and ATMs using cash/cards.
Does Vodafone sell SIM cards at Lisbon Airport?
Yes, Vodafone has a store at Lisbon Airport Arrivals terminal after customs where you can buy and activate a SIM card with passport.
X. Final Words
To summarize, Vodafone Portugal provides excellent connectivity with its high-speed 4G and 5G coverage suitable for tourists. Their prepaid SIM card plans offer great value with data, calls and EU roaming. eSIM is also available for digital convenience.
With easy activation and availability in stores/online, Vodafone is undoubtedly a top choice for a Portugal SIM card or eSIM during your travels. Enjoy the beaches, culture, food and sights during your trip with Vodafone's reliable service!