eSIM technology has revolutionized the way we use our mobile devices. With an eSIM, you no longer need a physical SIM card to activate your cellular service. Instead, the SIM card is embedded directly into your device, making it more convenient and flexible to manage your mobile services. In this list, we'll explore some of the most popular eSIM-compatible devices on the market, including smartphones, tablets, and smartwatches. Whether you're a frequent traveler or simply looking for a more streamlined way to manage your mobile devices in Portugal, Portugal eSIM compatible devices can provide many benefits.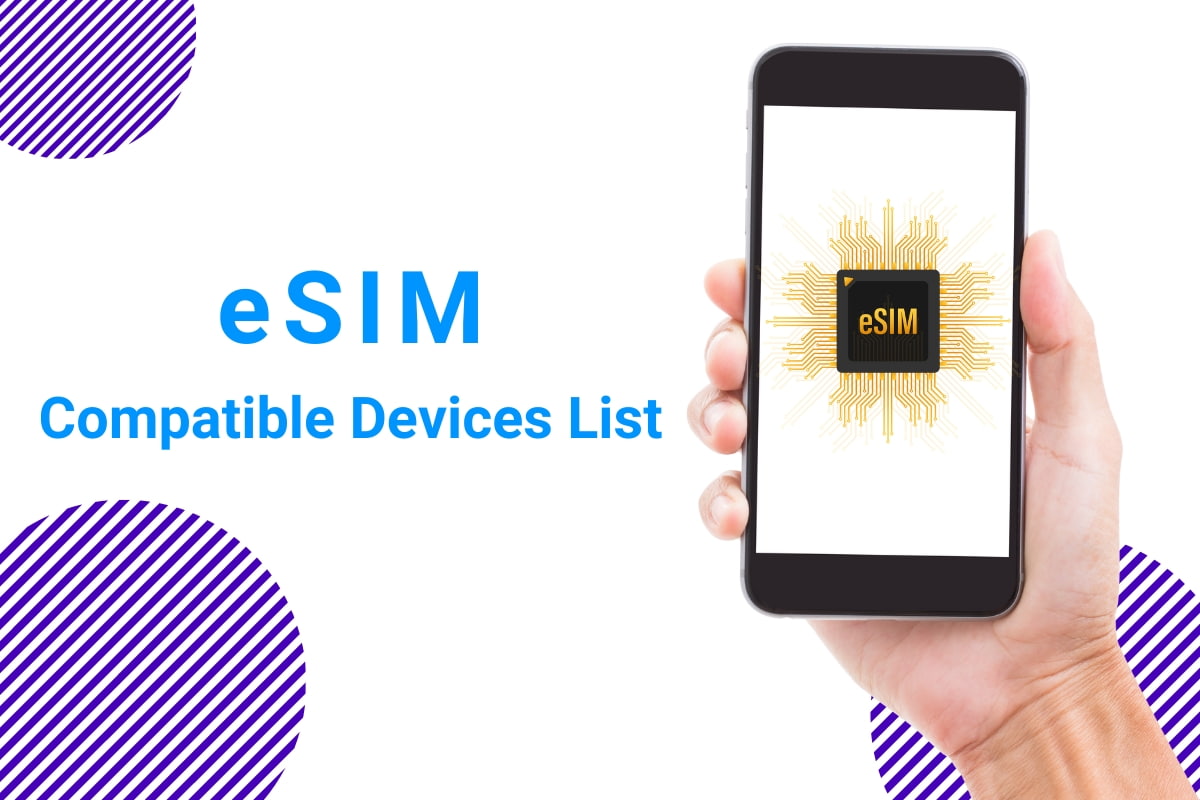 Table of Contents
1. List of Portugal eSIM Compatible Devices
The number of eSIM-compatible devices is continuously growing. 80 mobile phone, wearable, tablet, and laptop models are currently available.
Let's find out some Portugal eSIM compatible devices now.
1.1. eSIM Compatible Phones
We have the following phones with eSIM for Portugal and many other countries in the world:
1.1.1. Apple eSIM phones:
iPhone 15, iPhone 15 Plus, iPhone 15 Pro, iPhone 15 Pro Max*
iPhone 14, iPhone 14 Plus, iPhone 14 Pro, iPhone 14 Pro Max*
iPhone 13, iPhone 13 Pro, iPhone 13 Pro Max, iPhone 13 Mini*
iPhone 12, iPhone 12 Mini, iPhone 12 Pro, iPhone 12 Pro Max*
iPhone 11, iPhone 11 Pro, iPhone 11 Pro Max
iPhone XS, iPhone XS Max, iPhone XR
iPhone SE (2020), iPhone SE (2022)
iPad Air (3rd Generation), iPad Air (4th generation)
iPad Pro 11-inch (1st-2nd-3rd generation)
iPad Pro 12.9-inch (3rd-4th-5th generation)
iPad (7th generation), iPad (8th generation), iPad (9th generation) iPad Mini (5th generation), iPad Mini (6th generation)
Notes:
iPhones from Mainland China DO NOT support eSIM.
iPhones from Hong Kong and Macao (except for iPhone 13 mini, iPhone 12 mini, iPhone SE 2020, and iPhone XS) DO NOT support eSIM.
Learn more about eSIM on iPhone.
1.1.2. Samsung eSIM phones:
Samsung Galaxy S23 Ultra 5G, Samsung Galaxy S23+ 5G, Samsung Galaxy S23 5G
Samsung Galaxy S22 Ultra 5G, Samsung Galaxy S22+ 5G, Samsung Galaxy S22 5G
Samsung Galaxy S21 Ultra 5G, Samsung Galaxy S21 5G, Samsung Galaxy S21+ 5G
Samsung Galaxy S20, Samsung Galaxy S20+Samsung Galaxy Note 20+, Samsung Galaxy Note 20, Samsung Galaxy Note 20 Ultra
Samsung Galaxy Fold
Samsung Galaxy Z Flip, Samsung Galaxy Z Flip 3 5G, Samsung Galaxy Z Fold 2
Notes:
The following Samsung phones DO NOT support eSIM: Samsung S20/S21 FE Series; Samsung Note 20 Ultra and Samsung Galaxy Z Fold 2 originated from Hong Kong; Samsung devices originating from the Portugal and Canada.
For the Samsung S21 series (with the exemption of FE models) for Canada and the Portugal, if you already have the One UI 4, this update may add the eSIM capability to your device.
1.1.3. Google Pixel eSIM phones:
Google Pixel 3 & 3 XL*
Google Pixel 3a & 3a XL*
Google Pixel 4, 4a & 4 XL
Google Pixel 5*
Google Pixel 6, Google Pixel 6 Pro
Notes:
The following Pixel phones DO NOT support eSIM:
Pixel 3 phones manufactured in Australia, Taiwan, and Japan;
Pixel 3 phones purchased with the service from US or Canadian carriers other than Sprint and Google Fi;
Pixel 3a phones purchased in South East Asia and with Verizon service.
Pixel 3 from Australia, Taiwan, and Japan.
1.1.4. Other phones with eSIM
Besides the popular devices like in the above lists, there are many other phones from other manufacturers support Portugal eSIM.
HAMMER:
HAMMER Explorer PRO
HAMMER Blade 3
HAMMER Blade 5G
Motorola:
Motorola Razr 2019
Motorola Razr 5G
Huawei:
Huawei P40Huawei P40 Pro*
Huawei Mate 40 Pro
*Notes: Huawei P40 Pro+ DO NOT support eSIM.
Others:
Nuu Mobile X5
Gemini PDA 4G+Wi-Fi
OPPO Find X3 Pro*
OPPO Find X5 Pro*
OPPO Find X5*
Sony Xperia 10 III Lite
Notes: Regions that do not support dual SIM cards on Oppo phones: Australia (Telstra and Optus), and Japan (KDDI).
1.2. eSIM Compatible Smartwatches
Apple Watches:
Apple Watch S3, S4, S5
Apple Watch Nike, Apple Watch Nike+
Apple Watch Hermes
Apple Watch Edition
Samsung Smartwatches:
Samsung Gear S2 Classic 3G
Samsung Gear S3 Frontier LTE
Samsung Galaxy Watch LTE
1.3. eSIM Compatible Laptops
Currently, only Windows eSIM laptops are available, Apple is yet to release a MacBook with an eSIM.
Take a look at the list of laptops with eSIM capacity.
1.3.1. Acer eSIM Laptops
Acer Swift 3
Acer Swift 7
Acer Travel
Mate P2
Acer Travel
Mate Spin P4
Acer Travel
Mate P6
1.3.2. ASUS eSIM Laptops
ASUS Mini Transformer T103HAF
ASUS NovaGo TP370QL
ASUS VivoBook Flip 14 TP401NA
1.3.3. Dell eSIM Laptops
Dell Latitude 7210 2-in-1
Dell Latitude 9410
Dell Latitude 7310
Dell Latitude 7410
Dell Latitude 9510
Dell Latitude 5410
Dell Latitude 5411
Dell Latitude 5511
1.3.4. HP eSIM Laptops
HP Elitebook G5
HP Probook G5
HP Zbook G5
HP Spectre Folio 13
1.3.5. Lenovo eSIM Laptops
ThinkPad X1 Titanium Yoga 2 in 1
ThinkPad X1 Carbon Gen 9
ThinkPad X1 Fold
ThinkPad X1 Nano
ThinkPad X12 Detachable
Lenovo Flex 5G
Lenovo Yoga C630
Lenovo Miix 630
Lenovo Yoga 520
Lenovo Yoga 720 (2-in-1 models)
1.4. eSIM Compatible Tablets
The following tablets support an eSIM:
Microsoft Surface Pro (5th and 7th Gen onwards)
Microsoft Surface Pro X (5th Gen onwards)
There are also other devices that support eSIM such as laptops, some other phone models.
2. How to Check eSIM Compatibility and Carrier-Locked Status on Your Device
It is simple to determine if your phone is carrier-locked and whether it supports eSIM because all this information is displayed in your phone's settings. While your phone's SIM restriction/Network section indicates your phone's unlock status, your phone's IMEI (International Mobile Equipment Identity) shows your phone's eSIM compatibility.
In the following section, we'll walk you through how to check your iOS and Android phones' eSIM capabilities and unlock status.
2.1. On iOS Devices
On an iOS device, you can follow these steps below to check:
Check carrier lock:
Go to Settings> General> About.
Scroll down to check the "Carrier lock" section.
It should say "NO SIM restrictions," which means the device is unlocked.
Check eSIM compatibility:
Go to Settings> General> About.
Scroll down to AVAILABLE SIM. It should contain an IMEI under AVAILABLE SIM, which means that the device is eSIM compatible.
You can also go to Settings > Cellular and check whether you have the button "Add eSIM" or "Add mobile data" or not. If you have this button, your device is eSIM compatible.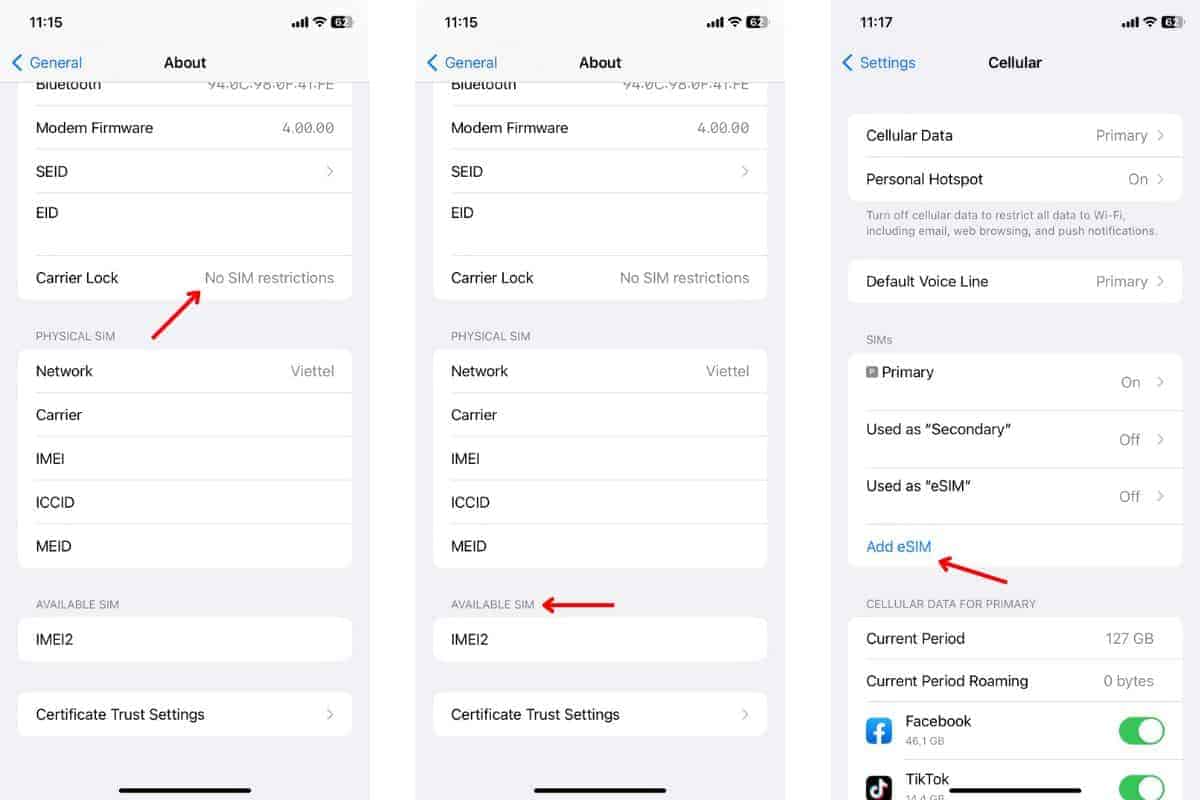 Suppose you have more than one SIM card on your device. In that case, you might need to temporarily disable or remove one of them before attempting to download the eSIM, depending on the capabilities of your device.
2.2. On Android Devices
To confirm that your Android device is carrier unlocked and supports eSIM, you will need to check its unlock status first and then find the "eSIM IMEI" number. Follow these steps below:
2.2.1. For Samsung devices:
Check its unlock status by:
Go to Settings > Connections/ Network & Internet (other variations depending on brand and model).
Select Mobile Network/ Cellular Network (other variations depending on brand and model).
Tap on Advanced (if needed) and select Choose Network/ Automatically select network (or other variants to open the list of carriers).
If several carriers appear, the chances are that your phone is unlocked and needs the appropriate SIM card. For further confirmation, continue to the step below.
Removing the old SIM card from your phone and insert the newly activated one from the other carrier. Trying using mobile data to browse the internet but ensuring that Wi-Fi is disabled.
>> If you successfully browsed the internet, your phone is unlocked.
Check your phone's eSIM-compatibility by:
Go to Settings.
If in Settings you see a search bar, type in "IMEI," and the option "IMEI information" (or similar) should show up (otherwise, you will need to go to About phone> Status).
Tap "IMEI information"
If the "IMEI (eSIM)" is available, it should mean that your device supports eSIM.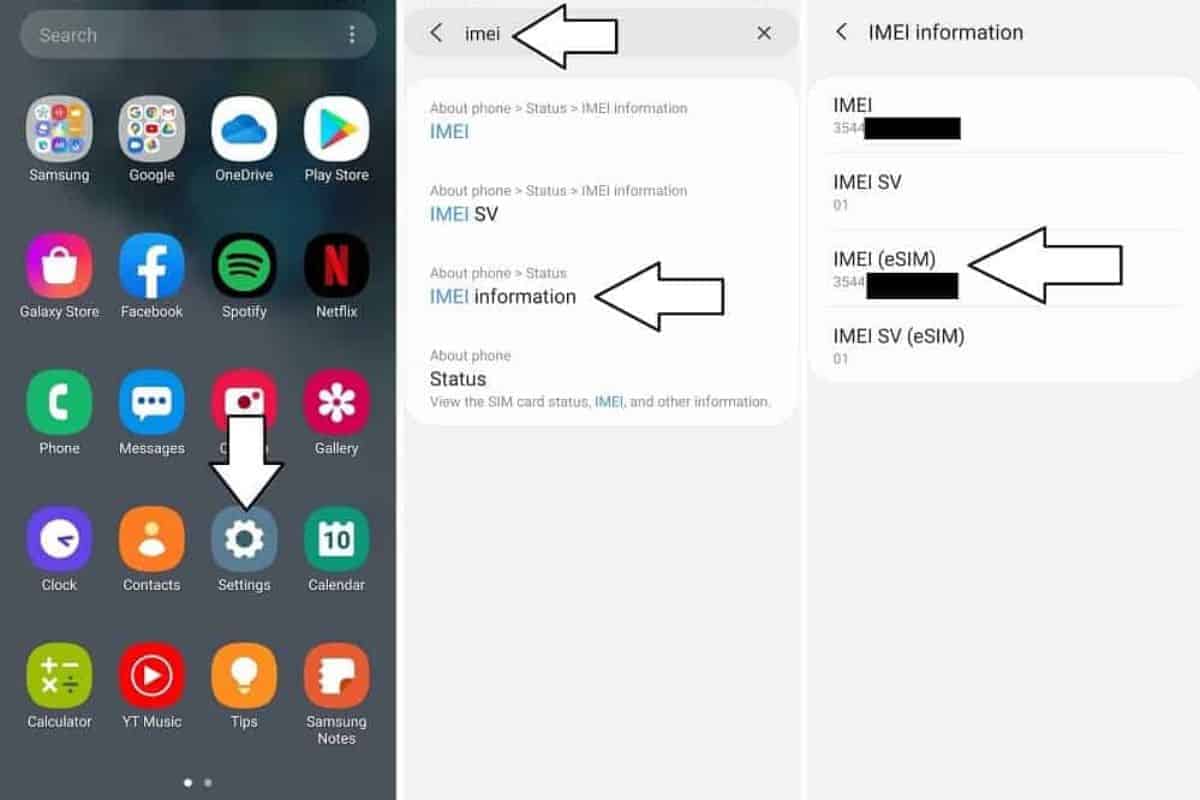 2.2.2. Other Android devices:
Check the unlock status in the same way as you do with Samsung phones.
Then, dial *#06# to check the eSIM capacity.
In case your device is eSIM-compatible, you should be able to view your device's eSIM unique identification number (EID).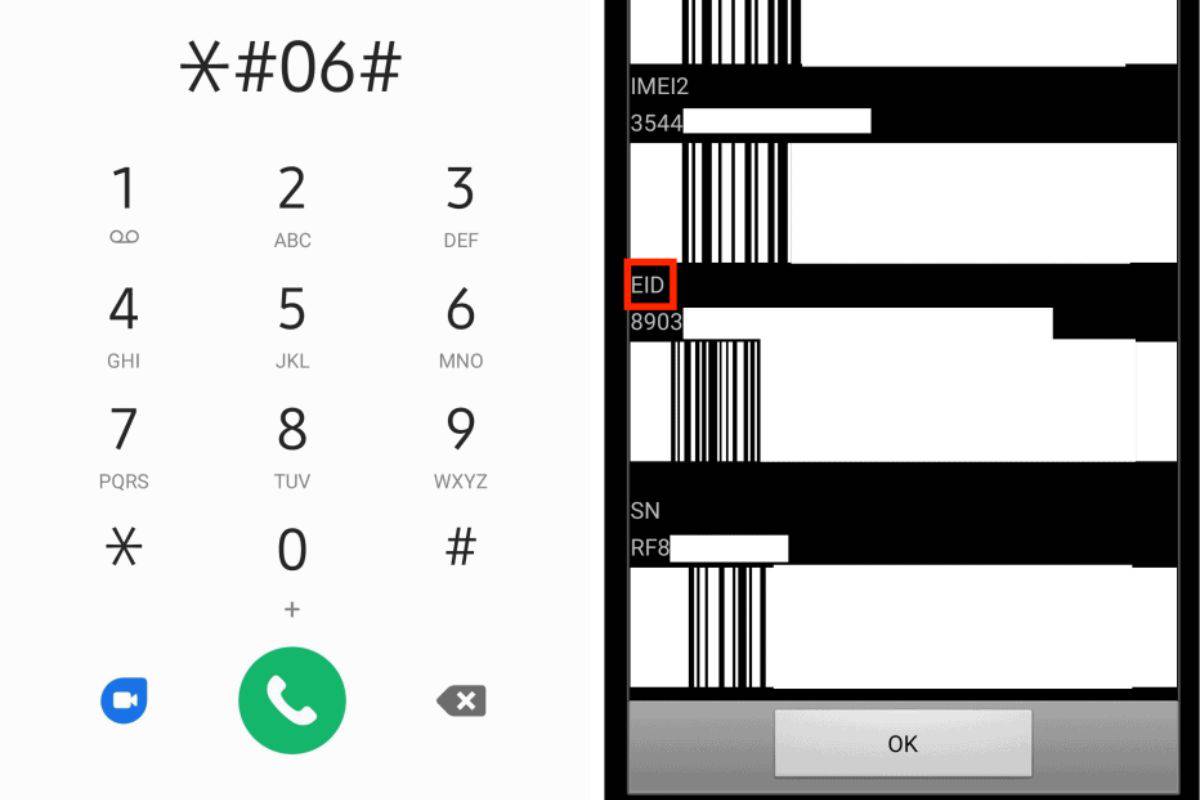 3. Frequently Asked Questions
Below are some frequently asked questions about Portugal eSIM compatible devices that you may concern:
Why my device is on the list but can not use eSIM?
Some notes in the list showed that there is some variants of the devices that are not compatible with eSIM. You should also pay attention to the notes.
Besides, if your phone is locked by carrier, you can not use eSIM. Please check how to check carrier lock status on the previous part.
What should I do if my device can not use Portugal eSIM?
You can purchase a SIM card to use data while traveling in Portugal. SIM cards can be found in the airport or any convenience stores in Portugal.
What can I do if my device is locked by carrier?
You can contact to phone carriers to ask for unlocking your device. Then, you can use the eSIM.
What can I do if I already purchased an eSIM, but my device is incompatible?
If you have not activated the eSIM and the device is not supported, you can contact portugalesim.com to request a refund. Read more about Cancellation and Refund.