Portugal is a popular tourist destination in Europe, known for its stunning beaches, historic cities, great food and wine. Having a local SIM card during your stay in Portugal is highly recommended to stay connected with high-speed mobile data.
MEO is one of the top mobile operators in Portugal with excellent nationwide 4G/LTE coverage. This guide will provide you everything you need to know about getting a MEO SIM card or eSIM when visiting Portugal.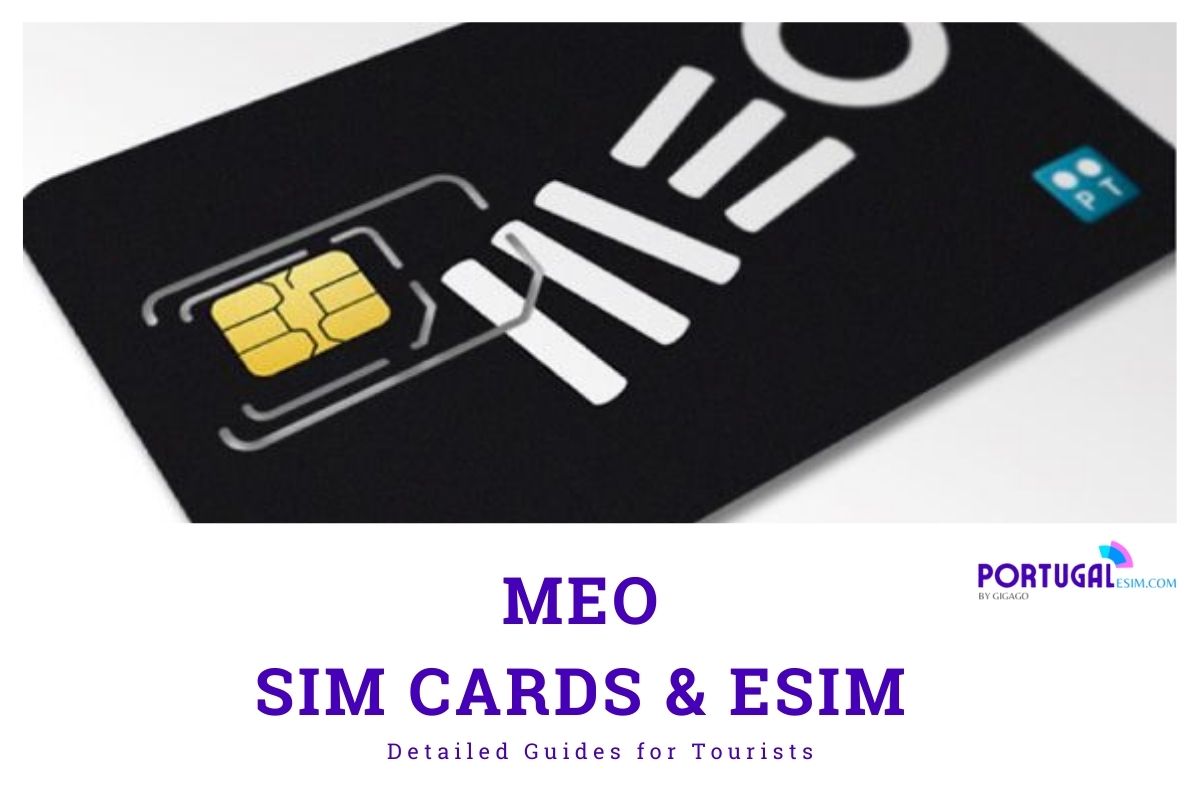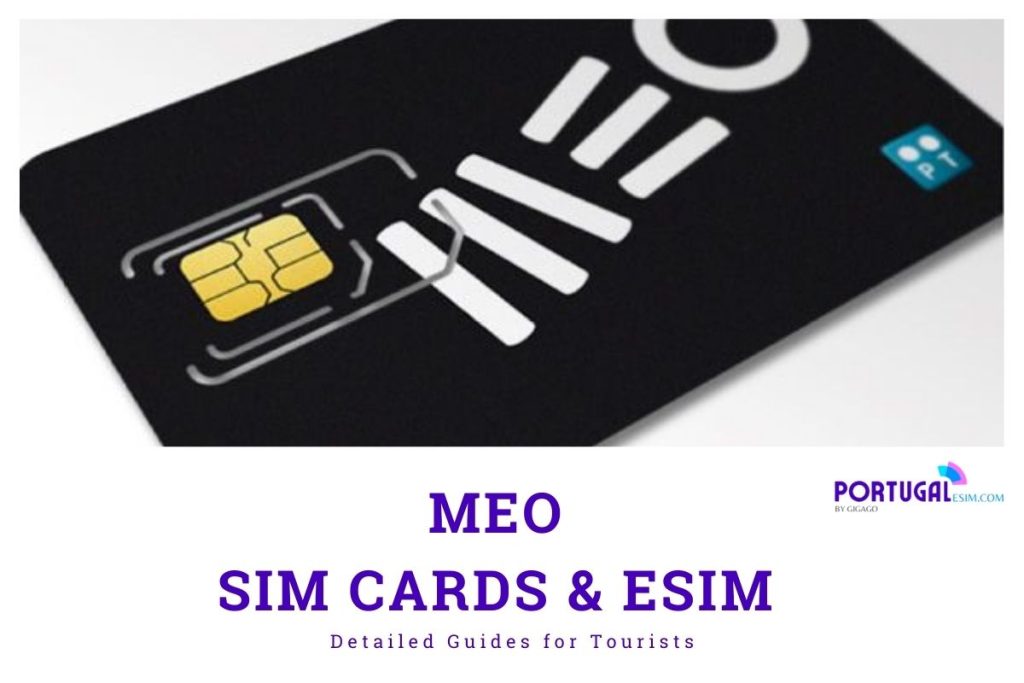 Table of Contents
I. Quick Facts about MEO
MEO is owned by Altice Portugal, one of the leading telecom groups in Portugal.
It has the best nationwide coverage in Portugal covering >98% population.
MEO offers 2G, 3G, 4G/LTE mobile networks in Portugal. Their 4G speeds are excellent and at par with Vodafone.
The company serves around 4.8 million mobile subscribers in Portugal.
MEO has a strong portfolio of prepaid plans, top-up vouchers and tourist SIM cards for visitors.
They also offer eSIM connectivity in Portugal.
Prepaid plans are called MEO Poupa. These plans provide data, calls and SMS bundles.
II. MEO Coverage and Speed in Portugal
MEO has the best overall coverage and speeds in the Portuguese mainland and islands of Azores and Madeira.
1. MEO Coverage in Portugal
Population coverage: MEO has a population coverage of around 98% in Portugal which is at par with other top providers like Vodafone and NOS. This means you will get a strong MEO signal in most parts of the country.
Geographic coverage: In terms of landmass, MEO coverage is around 83% in Portugal. It lags behind Vodafone's 91% landmass coverage. However, populated areas have excellent MEO coverage.
Azores and Madeira: MEO also provides good coverage on the islands of Azores and Madeira which are popular tourist spots. However, their coverage is not as extensive as in mainland.
4G/LTE: MEO has a world-class 4G network in Portugal covering 98% of population. You will enjoy fast mobile broadband throughout the country on a MEO SIM.
2. MEO Speed
MEO provides high 4G speeds of around 45 Mbps on average which is at par with other networks in Portugal. Their maximum recorded speed is 300 Mbps on 4G which is blazing fast.
MEO has been steadily improving its network performance and 4G availability. OpenSignal's report of May 2022 shows excellent 4G reach and speeds by MEO in Portugal:
4G Availability: 95.8%
4G Download Speed: 33.5 Mbps
4G Upload Speed: 10.6 Mbps
4G Latency: 45.3 ms
So you can be assured of reliable high-speed connectivity on MEO anywhere in Portugal. Their 5G is also rolling out gradually across the country.
III. MEO Connectivity Options for Travelers to Portugal
MEO offers these convenient connectivity options for tourists visiting Portugal:
MEO Tourist SIM: MEO has a prepaid tourist SIM card that provides 20 GB data, 1000 mins and 1000 SMS. It costs €25 and is valid for 15 days. This Portugal SIM card can be purchased at airport and other sales points.
MEO Prepaid SIM (Poupa Controle): You can get a regular MEO Poupa SIM card by providing your passport. These SIMs come with cheaper data packs and plans for longer stays.
MEO eSIM: MEO also provides prepaid eSIM which you can download through an app and activate instantly. Their eSIM works on iPhones and Android phones.
WiFi Hotspot rental: MEO has portable WiFi hotspot devices that you can rent during your trip. It creates a WiFi zone for connecting multiple devices.
Home Broadband: If you are staying longer in Portugal, you can also subscribe to their home fiber broadband plans with unlimited data.
So MEO has a connectivity solution for every tourist whether you are visiting Portugal for a short trip or long-term stay.
IV. Best MEO SIM Cards for Tourists & Cost
Here are the best SIM card options from MEO for tourists in Portugal:
MEO Tourist SIM
This prepaid tourist SIM provides:
20 GB of 4G/LTE data
1000 Local call minutes
1000 Local SMS
15 days validity
The MEO Portugal Tourist SIM is available for €25. This convenient all-in-one SIM card is designed for short trips to Portugal.
With 20 GB data, you can freely use maps, social media, make video calls and stream some content during your holiday. The included call minutes and texts are good bonus.
This MEO tourist SIM can be purchased online before arrival or at Lisbon airport and other sales locations in Portugal.
MEO Poupa Control Prepaid SIM
If you are staying longer in Portugal, consider the MEO Poupa Controle prepaid SIM. These provide more data at lower costs than tourist SIMs.
Some top-up examples of Poupa Controle SIM:
€5 top-up – 1.5 GB data for 30 days
€10 top-up – 5 GB + 100 mins for 30 days
€20 top-up – 15 GB + 500 mins for 30 days
So by getting a local Poupa SIM and adding €20 top-up you can get 15 GB data for a month at lower rate than tourist SIMs.
These Poupa SIM cards can be purchased by showing your passport at any MEO store or salespoint in Portugal.
MEO eSIM
MEO's prepaid eSIM is a great alternative to physical SIM cards. Their eSIM works on iPhones and Android phones.
MEO Portugal eSIM provides same data packs as their physical SIM. So you can activate a tourist plan with 20 GB data or cheaper Poupa recharges.
The eSIM can be purchased from their app and digitally downloaded. This spares you the headache of finding a SIM card on arrival.
MEO prepaid eSIM costs €10. On this you can add long-term or short-term data packs according to your requirement.
So in summary, MEO has excellent SIM card options for tourists in Portugal at reasonable rates. Their tourist SIM is hassle-free while Poupa SIM allows low cost packages for long stays. The eSIM option is also convenient if you have a compatible phone.
V. Does MEO Portugal Support eSIM?
Yes, MEO introduced eSIM support in Portugal in 2022. Their prepaid eSIM service allows you to activate mobile plans digitally on compatible phones.
MEO eSIM works on:
iPhone XS, iPhone XR and above – All newer iPhones support MEO Portugal eSIM. You can download their eSIM Profile through the MEO app.
Android phones – Most newer Samsung, Google Pixel, Motorola and other phones work if they have embedded eSIM.
So both iPhone and Android users can enjoy the convenience of MEO eSIM when traveling in Portugal. You don't need to buy any physical SIM card.
To use MEO Portugal eSIM, you will need to download their app:
MEO Go Prepaid app (iPhone) – Download this app on your iPhone to activate MEO eSIM.
MEO Go Prepaid app (Android) – Get this app from Play Store to activate MEO eSIM on your Android phone.
Through the app you can purchase and activate MEO Portugal eSIM instantly and use mobile data. This is a big convenience over physical SIM cards.
VI. Where To Buy MEO SIM Card and eSIM?
Here are the best places to purchase a MEO Portugal SIM card or eSIM for your trip:
1. Where to Buy MEO SIM Card for Portugal
Online – You can buy MEO Tourist SIM card online before your trip and get it delivered to your hotel or airport. Convenient option to save time.
Lisbon Airport – There are MEO stores and vending machines at Lisbon airport arrival halls and departures area. Easiest place to get SIM on arrival.
MEO stores – There are dedicated MEO stores in Lisbon city and other areas where you can buy Poupa SIM or eSIM. Ask staff for help.
Sales points – Many newsagents, supermarkets, and phone shops sell MEO prepaid SIMs and top-ups.
So you can easily find a MEO SIM card at Lisbon airport or their stores in the city. Online order is best if you want it ready upon arrival.
2. Where to Buy MEO Portugal eSIM
To get MEO Portugal eSIM, you have the following options:
MEO app – Use the MEO Go Prepaid app to purchase and activate eSIM before your trip. Download eSIM profile through app.
MEO stores – Visit any official MEO store in city centers to get help with downloading MEO eSIM profile and activation.
Website – You can also buy MEO Portugal eSIM from their website. Activation process is done through app.
So MEO eSIM can be purchased digitally through app or website before you travel. Their store staff can also help set it up.
VII. How to Activate MEO Portugal SIM/eSIM
Activating your MEO SIM or eSIM is very easy with these steps:
1. How to Activate MEO Portugal SIM Card
Insert the MEO SIM in your unlocked phone.
Power on phone and connect to MEO mobile network.
Go to Settings and turn on 'Mobile Data'.
Open browser and access any website. It will redirect to MEO portal.
Choose your preferred data pack and make payment to activate SIM.
2. How to Activate MEO Portugal eSIM
To use MEO eSIM:
Install MEO app on your iPhone or Android phone.
Purchase MEO eSIM plan through the app. Make payment.
App will download eSIM activation profile on your phone.
Follow prompts to install MEO eSIM on your device.
SIM is now activated and ready to use!
So MEO Portugal SIM activation is completely hassle-free whether you get a physical SIM or eSIM. Both can be set up easily in a few minutes once you have the SIM or eSIM profile.
VIII. MEO Portugal Call & SMS Rates
MEO prepaid SIMs provide very reasonable call and text rates when in Portugal:
Local Calls – €0.10 per minute
Calls to Europe – €0.50 per minute
Texts to Portugal mobiles – €0.05 per SMS
Incoming Calls – Free
For their tourist SIM, 1000 local mins and SMS are included free. For other plans, you can make local calls at 10 cents per minute which is very cheap.
Incoming calls and texts are free on MEO. Calling other countries in Europe is around 50 cents per minute on prepaid.
So MEO Portugal has economical call and text rates similar to other Portuguese networks. This allows you to stay affordably connected with friends and family back home.
IX. Useful USSD Codes for MEO SIM Card/eSIM
Check below USSD codes for MEO Portugal to check balance, data used and other information:
* 123# – Check remaining balance
* 124# – Check data balance
* 125# – Check validity
* 126# – Check bonuses, offers
* 100# – MEO self-care menu
You can dial these codes directly on your phone dialpad to access account information and settings for your MEO SIM card in Portugal.
USSD codes provide an easy way to check your prepaid balance, data used, plan validity and bonus info without installing any app.
X. How to Top-up MEO SIM Card/eSIM
You can recharge or top-up your MEO Poupa SIM in various ways:
Vouchers – Buy top-up vouchers from stores and scratch card to reveal code. Dial *120*CODE# to redeem.
MEO Stores – Visit any MEO store and pay in cash for a top-up.
MEO App – Use MEO Go Prepaid app to recharge your MEO SIM digitally.
Online – Pay securely on MEO website to top-up your MEO phone number.
So recharging your MEO SIM is very easy through vouchers, app payments or visiting MEO store. This allows you to add more data during your trip if needed.
XI. Alternatives to MEO SIM Card
Here are the best alternatives to get a SIM card in Portugal:
Vodafone Portugal – Get a Vodafone tourist SIM at the airport or their stores. Also has a prepaid eSIM.
NOS Portugal – NOS has a tourist SIM with 15 GB data and good nationwide coverage.
Tired of swapping physical SIM cards or paying high roaming fees when visiting Portugal? Our eSIM service is the hassle-free solution you should consider.
An eSIM allows you to access a Portuguese data plan directly from your phone without inserting a SIM card. As long as your device supports eSIM, connecting in Portugal is as simple as scanning a QR code.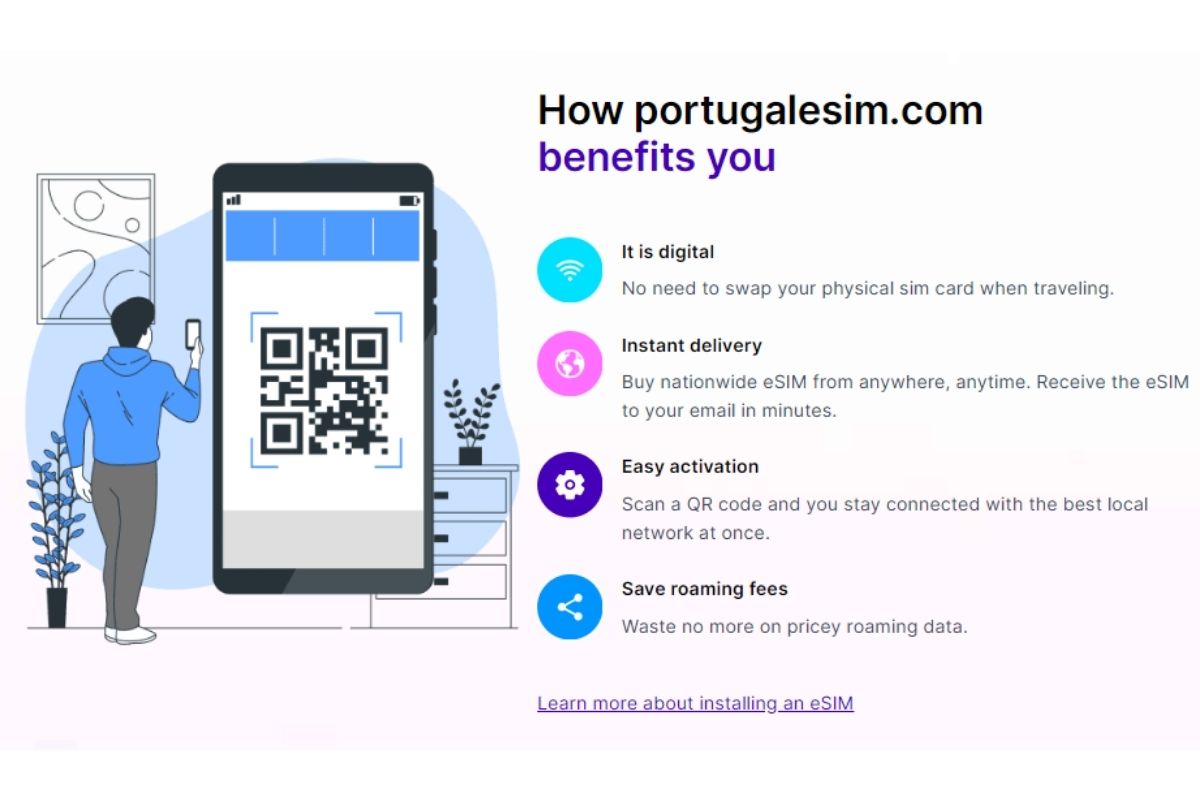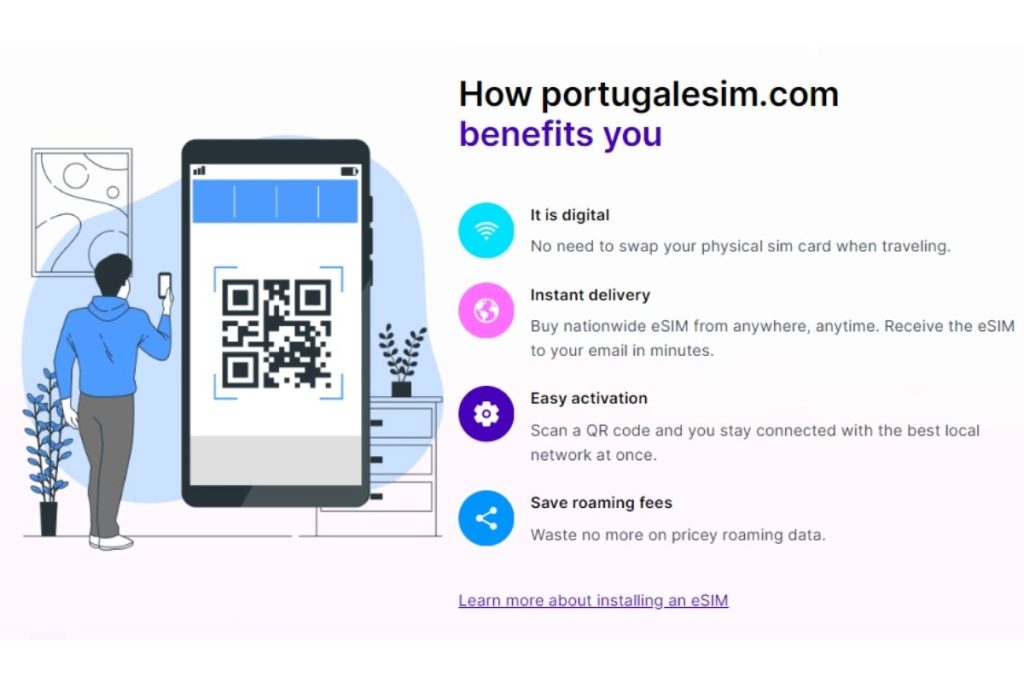 Activation is completely digital with portugalesim.com by GIGAGO. Once purchased, your eSIM profile will be emailed instantly for quick setup. Just scan the QR code with your camera – no waiting or SIM slot searching required.
We partner with major carrier Vodafone to provide fast 4G/5G access on reliable networks anywhere in Portugal.
Flexible plan options range from 3 days to a month suit any trip. Data allowances start at 1GB daily and go up to a generous 20GB.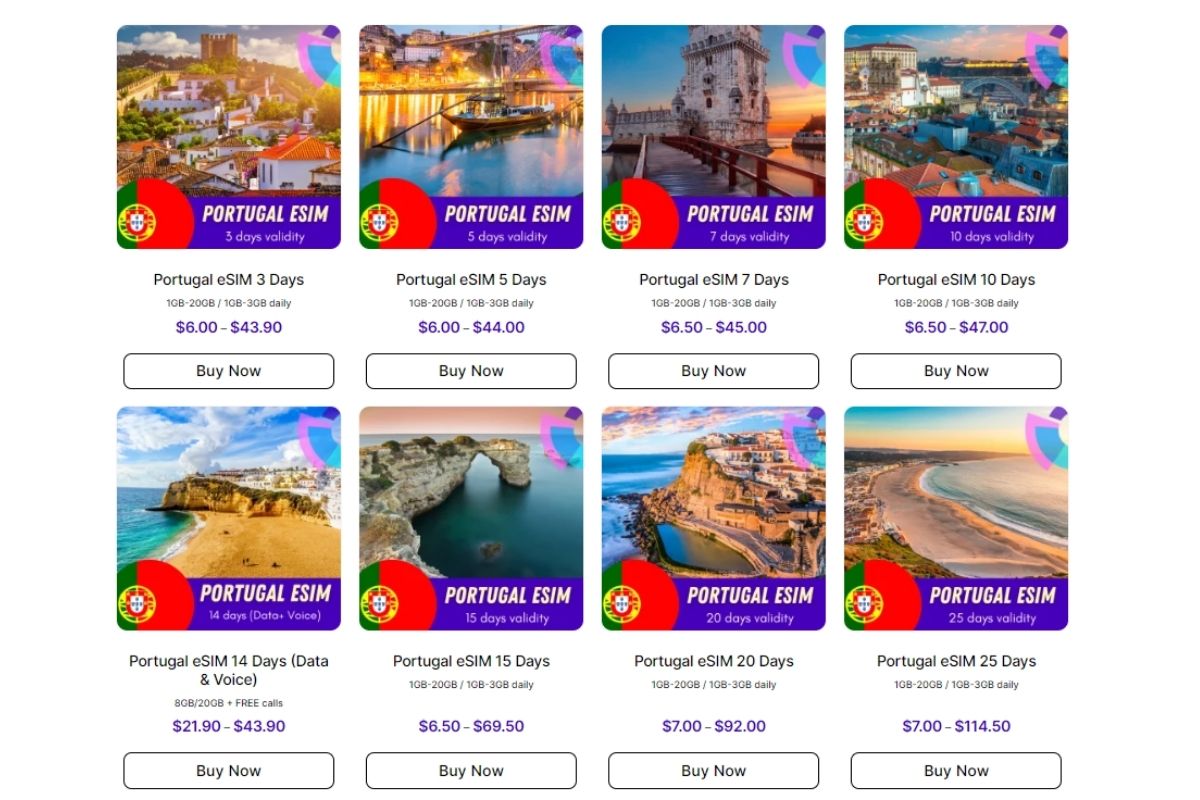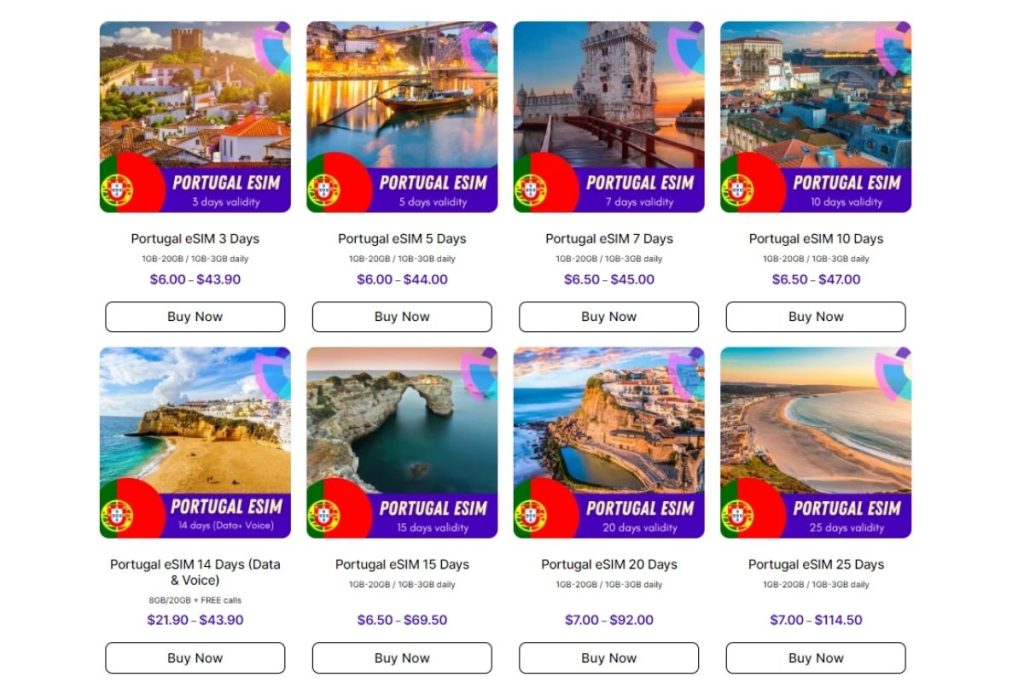 Detailed guides in multiple languages ensure smooth eSIM installation on compatible devices. Customer support is also available around the clock via chat, email and WhatsApp for assistance.
Getting online in Portugal has never been more convenient or affordable than with our streamlined eSIM service.
XII. FAQs about MEO Portugal
Does MEO have good coverage in Azores and Madeira?
Yes, MEO provides decent coverage on the islands of Azores and Madeira. However, rural areas may have some gaps in coverage. Vodafone has slightly better overall reach.
Does MEO SIM Card work in other European countries?
Yes, MEO SIM Card allows roaming in all EU/EEA at domestic rates. So you can use data, calls and texts without extra cost travelling within Europe.
Can I use 5G on MEO?
MEO has started 5G rollout in Portugal but coverage is still limited. To use 5G, you need a 5G enabled phone and be in area with 5G coverage. Speeds are up to 1 Gbps on 5G.
How do I contact MEO support?
You can contact MEO customer care by calling 16200 from your MEO SIM. Other options are chatting through their app or visiting a MEO store.
Does MEO work in Madeira and Azores islands?
Yes, MEO has coverage on Madeira and Azores but it may be limited in some rural parts of the islands. Vodafone generally has better reach there.
XIII. Final Words
Getting a MEO SIM card in Portugal is a great option for fast 4G data and excellent nationwide coverage. Their tourist SIM makes it easy to stay connected right after arrival at Lisbon airport.
For longer stays, you can get a MEO Poupa SIM and add data packs at lower costs than tourist plans. MEO's eSIM is also very convenient for eSIM-compatible phones.
So choose the MEO mobile plan that suits your needs and enjoy reliable connectivity during your Portugal trip!