Portugal is a popular tourist destination in Europe, known for its beautiful beaches, historic cities, great food and wine. Having a working phone is essential when traveling. Getting a local SIM card in Portugal allows you to stay connected affordably during your trip.
NOS is one of the top mobile operators in Portugal. With excellent nationwide 4G/5G coverage, good speeds and competitive rates, NOS is a great option for tourists visiting Portugal.
In this detailed guide, we will cover everything you need to know about getting NOS SIM cards or eSIM in Portugal as a tourist: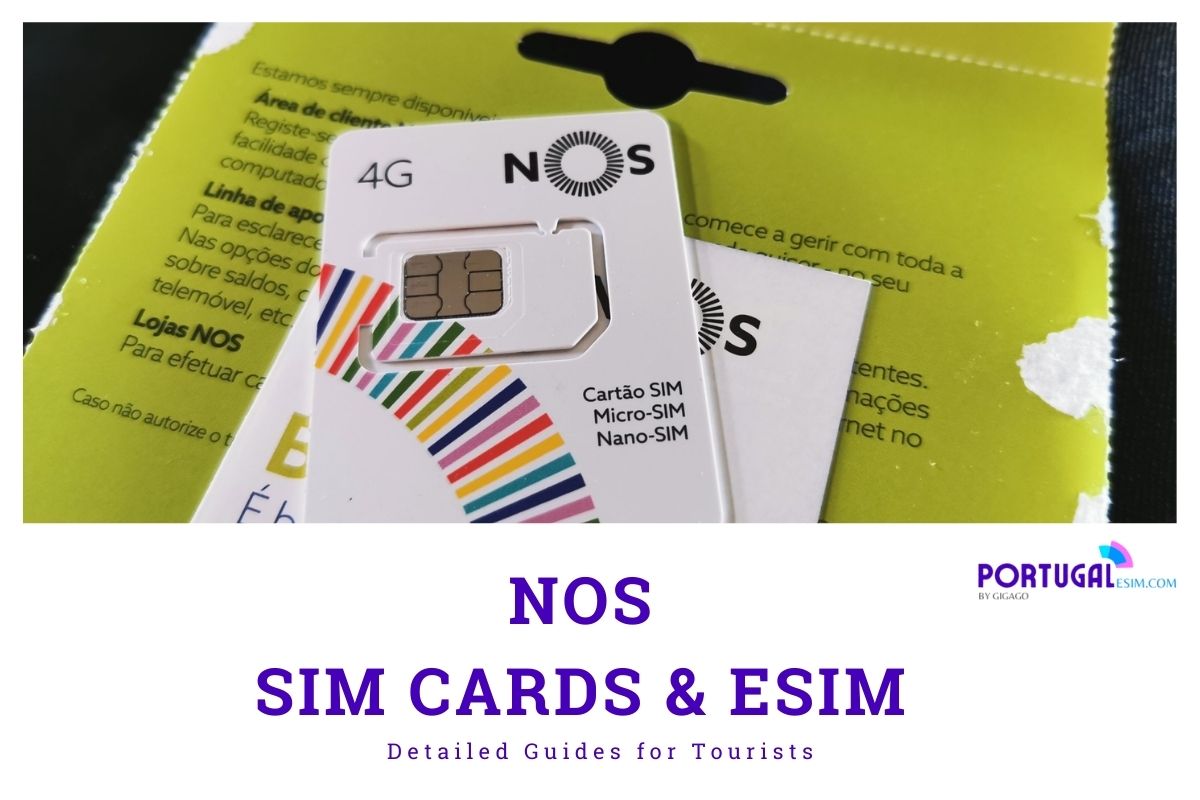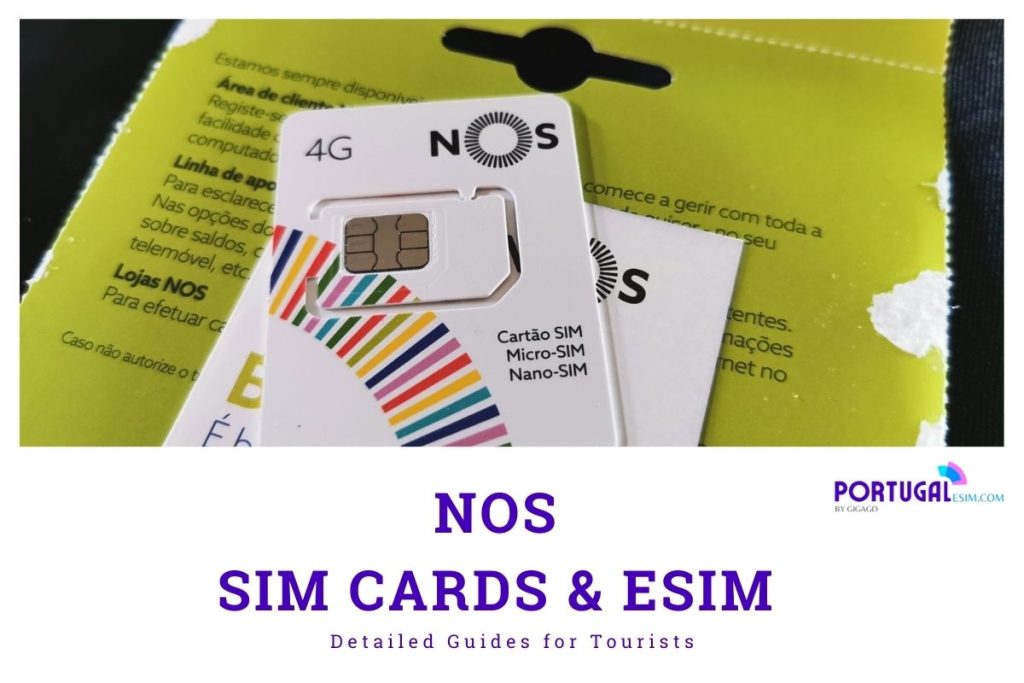 Table of Contents
I. Quick facts about NOS
NOS is the second largest mobile network operator in Portugal with around 5 million subscribers.
It has excellent 4G/5G coverage reaching over 99% of the population. Speeds are pretty good especially in cities.
Prepaid SIM cards are available for tourists with calling, texting and data buckets. NOS also offers eSIM for prepaid and postpaid plans.
NOS prepaid SIMs and plans can be purchased online for delivery or from physical stores across Portugal.
Compared to competition, NOS prepaid rates are very reasonable. Both PAYG rates and data packs are quite affordable.
They have good roaming coverage globally with 260+ destinations. You can use NOS SIMs while traveling to other parts of Europe.
NOS provides good customer service in English through email, chat and call centers.
II. Portugal NOS Coverage and Speed
1. NOS coverage in Portugal
NOS has excellent 4G and growing 5G coverage in Portugal:
4G/LTE – NOS provides national coverage reaching 99% of population in Portugal. Speeds are excellent in cities.
5G – NOS 5G network reaches over 50% population coverage in 2022. 5G is available in all major cities and tourist areas.
So you will get very good NOS mobile coverage while traveling in cities, coastal resorts and tourist hotspots of Portugal. Speeds are great for surfing, streaming, maps and social media.
2. NOS speed
In 2022 4G/5G network tests, NOS provided the following typical download/upload speeds in Portugal:
NOS 4G speed – 40 Mbps download / 12 Mbps upload
NOS 5G speed – 150 Mbps download / 22 Mbps upload
NOS 4G speeds are excellent considering extensive coverage. Their new 5G network is even faster touching 150 Mbps in our tests.
So NOS network is fast enough for HD video streaming, large file downloads, video calls and mobile gaming in Portugal.
III. NOS connectivity options for travelers to Portugal
NOS offers the following mobile connectivity options for tourists visiting Portugal:
NOS Prepaid SIM card – NOS has prepaid SIM cards with calling, texting and data buckets from 5 EUR. Validity is 6-12 months.
NOS Tourist eSIM – NOS provides prepaid tourist eSIMs with 30 day validity. Plans from 15 EUR with calling, SMS and data.
NOS Postpaid eSIM – Long term travelers can get 1-month or 12 month NOS postpaid eSIM plans with unlimited domestic and EU roaming.
NOS prepaid SIM is the easiest option for short term tourists. eSIM works for dual SIM phone users and frequent Portugal visitors. Choose as per your travel duration and needs.
IV. Best NOS SIM cards for tourists & cost
NOS SIM Card
NOS prepaid SIM card is the best option for most tourists visiting Portugal short-term. Their Prepaid 4G SIM cards provide following benefits:
Data pkgs – Plans with 1.5GB, 5GB and 10GB data for up to 12 months.
Cost – SIM cards cost 5 EUR. Data packs from 5 EUR for 1.5GB data.
Network – Excellent nationwide 4G coverage. 5G access on compatible device.
Validity – Long validity of 180 to 365 days after activating data pack.
Other services – Contains prepaid credit for calls and texts. Can add-on other services.
Below are the top NOS Prepaid SIM plans for tourists and costs:
| NOS Prepaid SIM | Cost (EUR) | Data | Validity |
| --- | --- | --- | --- |
| SIM Card Only | 5 | – | – |
| Turista SIM Card | 15 | 2GB | 30 days |
| Internet Mini (1.5GB) | 5 | 1.5GB | 180 days |
| Internet Extra (5GB) | 10 | 5GB | 180 days |
| Internet Maxi (10GB) | 20 | 10GB | 365 days |
NOS SIM card only costs 5 EUR. You need to activate a data pack separately for internet access. We recommend the Internet Extra 5GB pack at 10 EUR which is great value.
So you only need 15 EUR for a NOS prepaid SIM card and data pack that will last for 180 days. Awesome!
NOS Tourist eSIM
If you have an eSIM compatible phone, NOS provides dedicated tourist eSIM plans. Benefits are:
Prepaid plans – Tourist focused plans only for eSIM. No credit checks.
Data – Plans with 2GB to 5GB data for 30 days. Unlimited calls and texts.
Cost – Starts at 15 EUR for 2GB plan. 5GB plan is 20 EUR.
Network – Uses NOS's excellent 4G/5G network. EU roaming.
Validity – 30 days only. Suits short vacations.
Below are the NOS tourist eSIM plan rates:
| NOS Tourist eSIM | Cost (EUR) | Data | Validity |
| --- | --- | --- | --- |
| Turista 2GB eSIM | 15 | 2GB | 30 days |
| Turista 5GB eSIM | 20 | 5GB | 30 days |
The 2GB tourist eSIM plan at 15 EUR is good enough for lighter users visiting Portugal for under 30 days. Get the 5GB eSIM plan for longer stays or heavy data usage.
V. Does NOS Portugal support eSIM?
Yes, NOS offers both prepaid and postpaid plan eSIMs to locals and tourists.
Here are the NOS eSIM options:
Prepaid eSIM – Tourist focused eSIMs with 30 day validity and data packs. (Covered above)
Postpaid eSIM – 1 or 12 months plans with unlimited domestic & EU data and calls. Needs passport.
Dual SIM – NOS eSIM allows you to use 2 SIMs together in dual SIM phone.
Devices – NOS eSIM works on most newer iPhone, Samsung and Google Pixel devices. Confirm eSIM support before buying.
So with broad eSIM support, you can definitely use eSIM on NOS network in Portugal for both short trips or longer stays.
VI. Where can you buy a NOS SIM card and eSIM?
1. Where to buy NOS SIM Card for Portugal
There are a few options to purchase a NOS Portugal SIM card or eSIM:
NOS stores – Walk into any official NOS store and outlet in Portugal to buy SIM card.
Online – You can order NOS SIM for delivery in Portugal through their website. Provides home delivery.
Resellers – Portugal SIM card sellers like KnowRoaming, SimLocal etc. deliver worldwide.
Airport vending – Available via vending machines at Lisbon, Porto and Faro Airports.
Buying online in advance is recommended to save time. Else NOS stores and airport vending machines are good options upon arrival.
2. Where to buy Portugal NOS eSIM
To get NOS Portugal eSIM, you have the following options:
NOS website – Order prepaid and postpaid eSIM plans online and activate through NOS eSIM app.
Resellers – SIM resellers provide instant digital delivery of NOS tourist eSIM plans.
iOS/Android app – Activate eSIM through NOS app on your iPhone or Android device.
Again, best to order in advance from NOS website or resellers for fastest activation. Alternatively, you can download eSIM through NOS app after arriving Portugal.
VII. How to activate NOS Portugal SIM Card/eSIM
Activating your new NOS SIM or eSIM is easy and quick. Here's what to do:
1. How to use NOS Portugal SIM card
Follow these steps to activate your physical NOS SIM:
Insert SIM card into your unlocked phone.
Select NOS network and restart if prompted.
Open mobile browser on phone and go to: internet.nos.pt
Choose your prepaid data pack and make payment using credit card.
SIM will activate within minutes and data will be usable.
2. How to activate NOS Portugal eSIM
To activate your NOS Portugal eSIM profile:
On your phone, download the NOS eSIM app from App Store or Play Store.
Register using your email and set account password.
Scan QR code received during eSIM purchase to add your plan.
Follow prompts to download and install eSIM profile.
You may need to restart phone to complete activation.
That's it! Both SIM and eSIM can be activated in a few minutes over-the-air after purchase.
VIII. Portugal NOS Call & SMS rates
NOS Portugal offers very competitive prepaid calling and text rates:
Local calls – 0.10 EUR per minute
Calls to NOS – 0.05 EUR per minute
SMS national – 0.05 EUR per text
SMS international – 0.15 EUR per text
For EU roaming, regulated Euro rates apply:
Calls to Europe – 0.19 EUR per minute
SMS to Europe – 0.06 EUR per text
Great thing is free unlimited calls & text to NOS numbers and other NOS prepaid users. Overall, NOS prepaid rates are very good.
IX. Useful USSD codes for NOS SIM card/eSIM
Here are some useful NOS network USSD codes to check balance, plans etc:
* 100# – Check prepaid balance
* 123# – Check data balance
* 222# – Check bonus & promo balance
* 303# – Check prepaid plan info
* 555# – Check nos Wallet balance
Dial these codes directly on your NOS SIM to quickly access account info and balances.
X. How to top-up NOS Portugal SIM Card/eSIM
You can easily recharge or top-up your NOS prepaid SIM through multiple ways:
Online – Use NOS website or app to top-up using credit/debit card.
Vouchers – Enter recharge PINs from top-up vouchers bought from NOS stores.
ATMs – Pay at Multibanco ATMs across Portugal using cash or card.
Stores – Pay at NOS stores and thousands of authorized top-up outlets.
Online top-ups are fastest but you can easily recharge offline as NOS has 100,000+ physical top-up points in Portugal.
XI. Alternatives to Portugal NOS SIM Cards
Here are some alternatives you can consider for tourist SIM cards in Portugal:
Vodafone Portugal – Second biggest provider with excellent coverage and speeds.
MEO by Altice – Third large operator suitable for city areas with good deals.
While NOS gives best performance for most travelers, Vodafone or MEO can provide good deals on specific tourist plans. Evaluate before you buy.
Traveling to Portugal but don't want the hassle of changing SIM cards or paying high roaming fees? Then get an eSIM from portugalesim.com before your trip!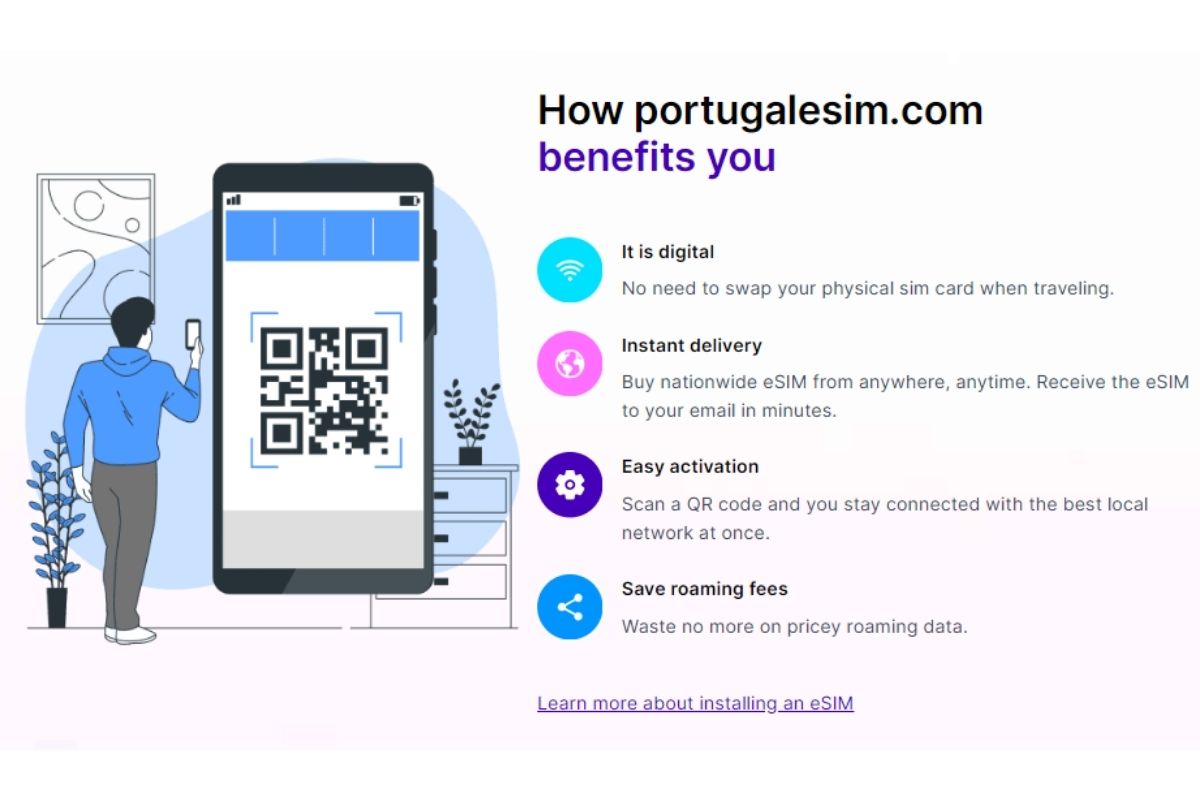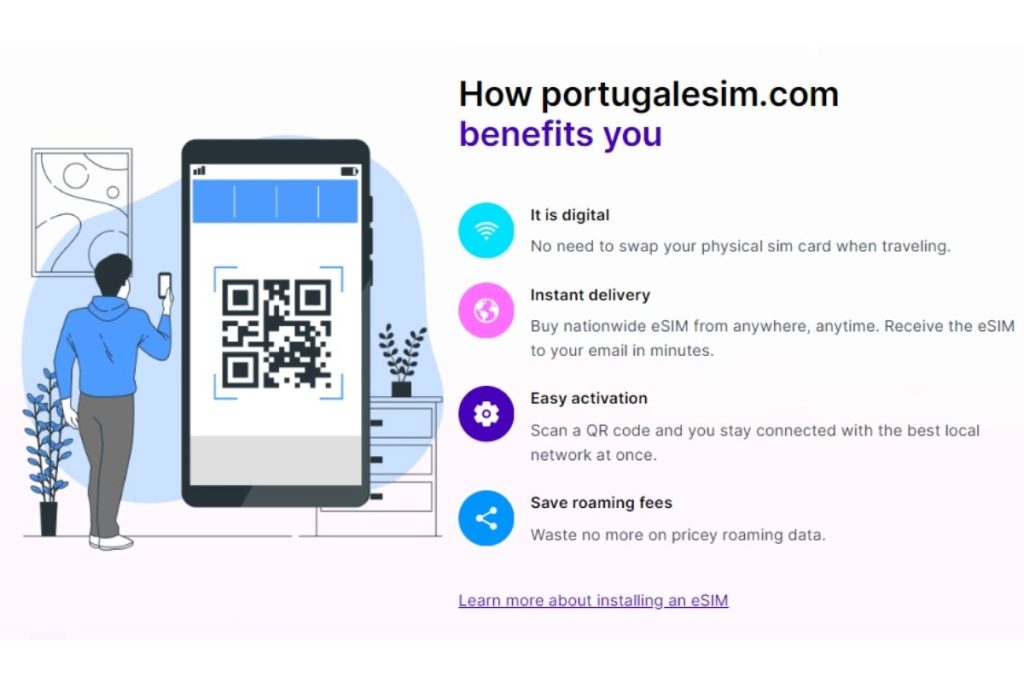 portugalesim.com by GIGAGO makes it easy to purchase affordable eSIM data plans for Portugal online. Browse their selection of short and long-term travel packages.
Plans are available from just $6 for 3 days up to 30 day packages starting at $7. Choose the duration that fits your Portugal itinerary.
Data allowances range from 1-20GB daily so you can stream, navigate and stay connected without worry. Daily limits range from 1-3GB depending on the plan.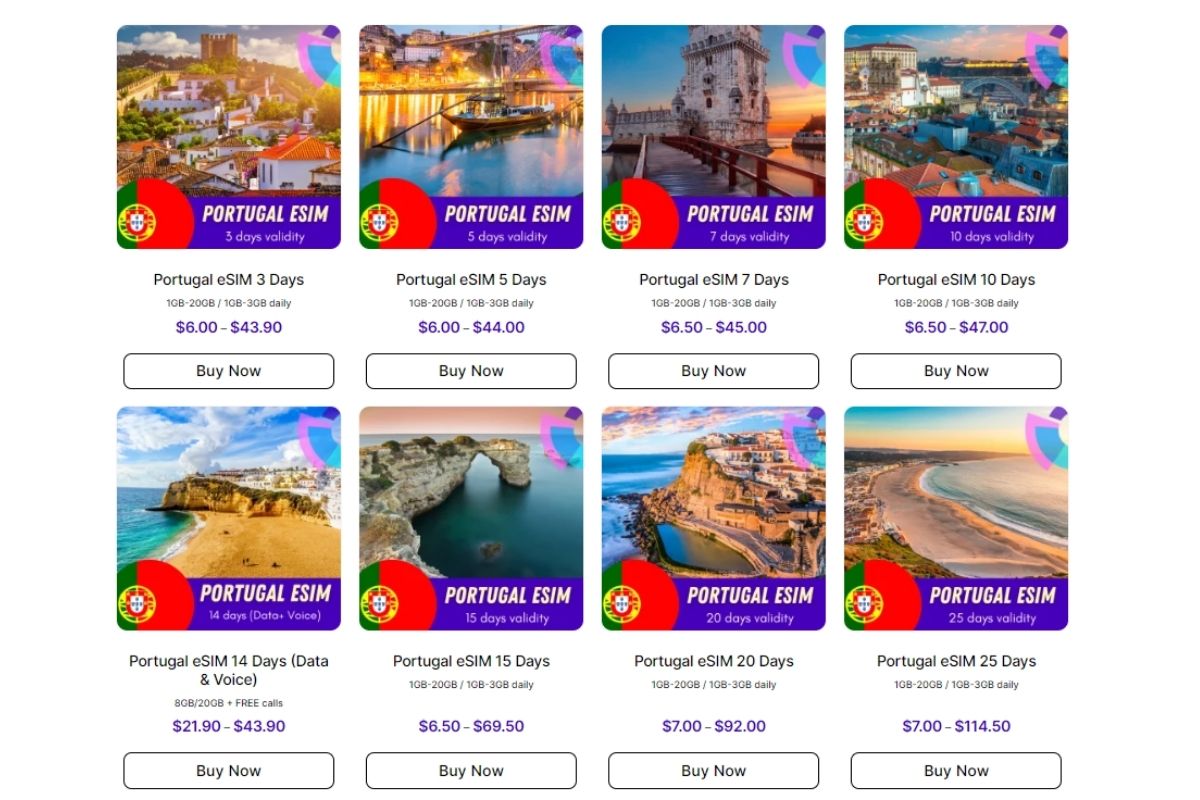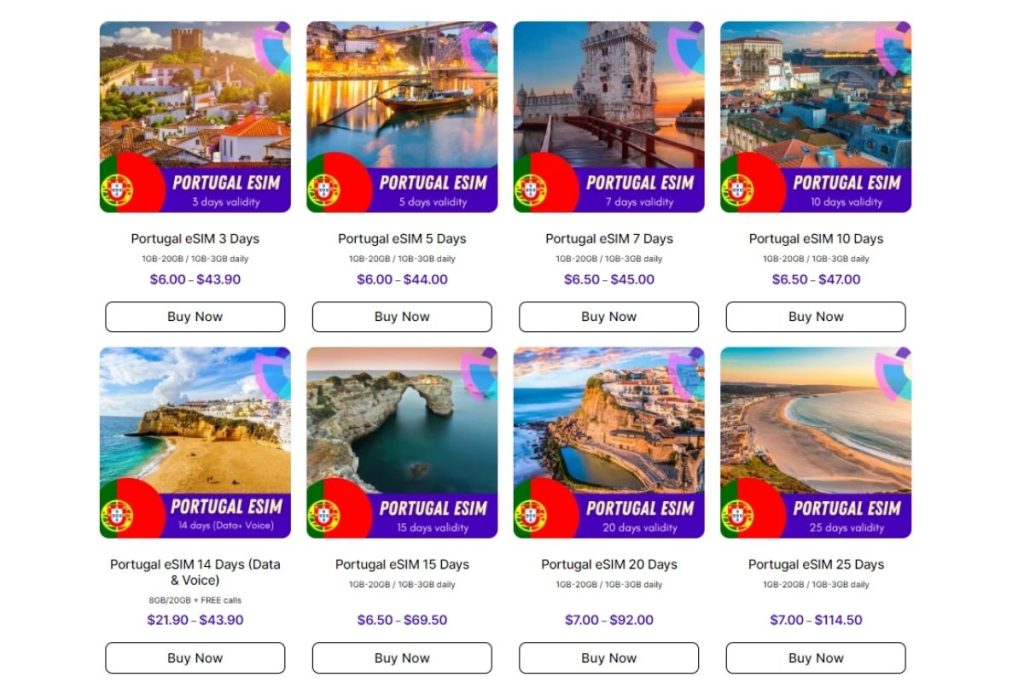 The benefits of portugalesim.com – purchase online and the eSIM QR code is instantly delivered to your email. Simply scan it on your phone to connect to Portugal's fast 4G/5G networks wherever you go.
Say goodbye to roaming charges from your provider or hassling with physical SIM cards. A portugalesim.com eSIM makes accessing affordable Portugal cellular data a breeze during your trip.
XII. FAQs about NOS SIM Cards
Does NOS work in Madeira and Azores?
Yes, NOS has excellent coverage and speeds on the islands of Madeira and Azores. A local NOS SIM will work seamlessly.
Can I roam with NOS SIM card in Europe?
Yes, NOS Portugal SIMs and plans come with free roaming in all EU/EEA countries subject to fair use limits.
How can I contact NOS support?
You can contact NOS customer service by calling 16200 from your NOS SIM. Their UK helpline is +44 330 606 0113.
Does NOS SIM card work in Dual SIM phones?
Yes, NOS SIM card and eSIM will work great in dual SIM mobile phones. You can use 2 NOS SIMs together this way.
Where are NOS stores in Lisbon and Porto?
NOS has multiple stores in central areas of Lisbon and Porto. Easiest to search nearest store on their website.
XIII. Final words
We hope this detailed guide gives you all the information needed to get connected with NOS SIM card or eSIM in Portugal. Their excellent network coverage, good speeds and great value prepaid plans make NOS the top choice of connectivity for most tourists.
Use the tips above to pick the best NOS SIM or eSIM plan for your device and travel needs in Portugal. Have a wonderful trip and stay connected affordably with NOS!